Every woman deserves to feel comfortable and confident in her body and one of the best ways to do this is with a good set of underwear. But what exactly makes the perfect underwear set?
Comfort is the main priority
There are a few factors that determine the comfortability of a piece of underwear. From fabric choices, to stitching and detail. Making good fabric choices for clothing, especially underwear, is essential for feeling comfortable and confident all day long. It is important to choose styles that you are comfortable in. Underwear made from natural fibres are a must, especially for sensitive skin. Silk and bamboo-cotton underwear are super soft and will have you feeling comfortable throughout the entire day. Silk underwear is lightweight, hypoallergenic and allows skin to breathe. Whereas bamboo-cotton underwear is breathable, hypoallergenic, moisture wicking and has antibacterial properties to keep you odour free.
Short Johns are one of our most useful pieces of comfortable underwear for their luxury, breathable fabric and length that prevents chafing whilst walking.
Our bamboo-cotton crop top is supportive, flexible and breathable allowing you to feel comfortable all day long and boost your underwear confidence.
Getting the right fit
When it comes to underwear, getting the right fit is a key factor. Wearing the right size goes hand in hand with making you feel comfortable and more confident in your underwear. Garments that are unsupportive or too small will not be able to compliment your body to the fullest. It is important to take your correct measurements or get yourself fitted for a bra or other pieces of underwear.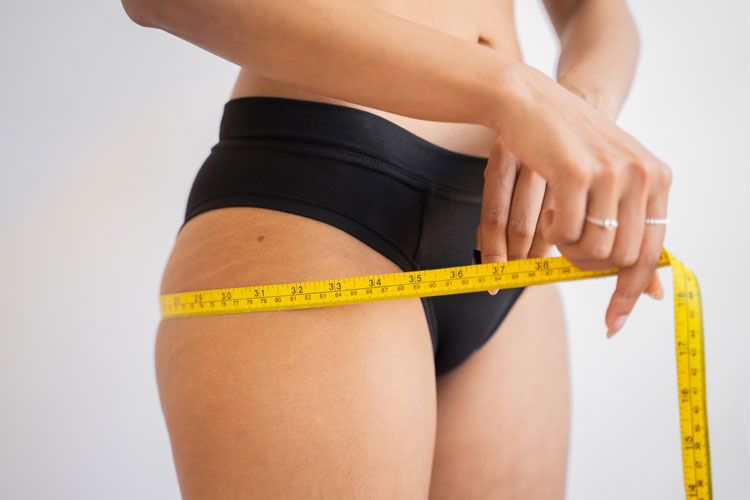 Invest in the best quality
Not only does quality underwear feel more luxurious, but they also last longer. Variables such as fabric, elastic, binding, wires, thread and more have an impact on the quality of underwear pieces. Details such as embroidery, lace, and silk all contribute to making the piece of underwear extra special. Look for fabrics such as silk or bamboo-cotton in styles and colours that look and feel good to you.
Our silk and lace camisole vest is practical with a pretty and luxurious touch.
Wear it for yourself too
A nice set of underwear doesn't always have to be for a special occasion or for your partner. It is important to wear it for yourself as well. Why wait for a special moment when you can make yourself feel like a goddess every day.
Treat yourself to a matching set
Mixing and matching with underwear can be fun, but there is nothing better than a perfectly coordinated underwear set. Even if no one else sees it, a matching underwear set can automatically make you feel more confident no matter where you are.
This comfortable silk crop top with matching briefs gives a supportive fit while still looking super feminine.
It is a great idea to choose underwear that reflects your personal style and personality in fabrics that feel good. Wearing good underwear is all about treating yourself with love and nice quality lingerie or underwear sets are sure to boost your confidence and self-esteem. At the end of the day it's about how you feel in what you wear that truly matters.
We wear underwear every day, so why wouldn't we treat our bodies to the self-love it deserves and invest in something skin-kind, comfortable and of course luxurious. Our best underwear confidence tip is feeling confident from within and learning to love our bodies. It can allow us to walk and speak differently. So why not invest in a good quality underwear set to help you do just that! It is one of those small things you can do just for yourself as an act of self-care and empowerment!