Enhance any outfit with belts, scarves and snoods
The arrival of autumn doesn't mean having to wear dull and dark neutrals all the time. It is easy to brighten things up – adding small touches of colour finishes a look instantly. It is a sophisticated way to give your ensemble greater visual interest and can elevate even the most casual of outfits. There are many methods to achieve this, but adding accessories is by far the easiest. A belt or a scarf is perfect for making a lasting impression and revamping a wide variety of outfits, from office-wear to your weekend basics and everything in between. You can add as much or as little colour as you like when you feel like it; the possibilities are endless!
Belts
Belts are probably the most versatile of accessories. Do you have a dress that doesn't fall perfectly? Slap on a belt and you instantly have shape! Belts are not only ideal for dresses; you can wear them with your favourite jeans and trousers, skirts or you can even experiment with belts over cardigans and coats! There is nothing wrong with playing with belts to create an hourglass figure, to give added waist definition, or just explore your style. Thin or thicker ones, braided or leather, belts are a true wardrobe necessity.
Belts in neutral colours are ideal for creating elegant, monochromatic looks. Beige, blue, black, and shades of brown are perfect for when you want to master the art of wearing one solid colour head to toe. A neutral belt also works wonders when worn with your jeans or favourite shirt dress and paired with shoes or bag in the same colour, as they add a touch of polish to an otherwise everyday look. Colourful belts are a fun addition to your wardrobe. Try and match them with a colour in your shirt or dress, so they tie into what you are wearing. Just keep your other accessories (bag and shoes) neutral, so that they won't clash with the rest of your outfit.
Our belts do wonders for your body, no matter what your shape. They even out the proportions of your body, they can elongate your figure and even give the illusion of curves if you have a more athletic silhouette. There is nothing a belt cannot do!
Scarves
Scarves add a touch of elegance and timelessness to your everyday looks. This accessory can be worn all year round and look great, no matter the occasion. With fringes or other embellishments, in plain or print, scarves offer an instant upgrade to your ensemble and are an essential accessory whatever the season.
A silk scarf paired with anything you have in your wardrobe will be a bright injection of colour and add instant styling points. A plain combination of a top or shirt with a pair of trousers or jeans will appear more polished and elegant with the addition of a silk scarf.
Wool and wool-mix scarves are ideal when the weather gets colder, as they keep your neck warm, while also adding colour and pattern to your outfit. You can incorporate them in your workwear, day dresses, or even with your favourite jacket and jeans combinations to give an extra dimension to any look.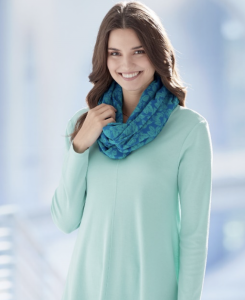 Finally, snood scarves are perhaps the easiest accessory to wear, as you can wrap them in loops around your neck. During autumn and winter you'll benefit from the warmth a snood provides and you'll also enjoy instantly lifting your everyday outfit with a dash of colour.
Choose scarves that speak to you, as you'll want to wear them again and again. Start slow and build on your collection (and your confidence) and you will have outfits that will appear put together and chic. A scarf gives the impression that you have put some thought into what you're wearing (even if you haven't!)
Belts and scarves are as functional as they are stylish. These accessories are an affordable way to lift and rejuvenate your wardrobe basics and they definitely add a little something to your look. Just remember one small, golden rule; choose accessories that complement your style nicely, rather than contradict it. If you are not "feeling" them, it's always better to look for something else that will give you a pop of colour!