Improve the quality of your sleep and feel more rested
We all sleep. However the quality of sleep is different for all of us. You may be lucky and fall asleep easily, perhaps you may go to bed and wake up feeling exhausted, or you may even find it hard to drop off at all! There are so many reasons why it is important to get a good night's sleep. Good quality sleep helps you maintain a healthy lifestyle and does wonders for your mental health, too. Sleep is so important for our emotional, mental and physical wellbeing, improving your anxiety levels and general concentration. To help you make the most of night time, we have come up with some tips that can transform your beauty sleep, without even getting out of your bed!
Bedding
Your bedroom should be your ultimate sanctuary. This is where you leave the stresses of the day behind you and relax. It should feel peaceful and welcoming, an oasis of tranquillity. You can make that happen by surrounding yourself with items, aromas and colours that help you feel as relaxed as possible. From the mattress you choose to your favourite bedding, comfort is really the most important thing to think about. For that reason, have you ever considered investing in pure silk bedding and pillowcases?
Our silk-filled duvets are a prime example of luxurious comfort that you can snuggle into. Filled with 100% tussah silk, our duvets not only feel great against your body, but they are also perfect for a good night's sleep for a variety of reasons. Experts conclude that the ideal bedroom temperature to promote sleep is around 20°C, our silk duvets can keep you cool in summer and warm in winter, as they retain heat (and expel moisture) brilliantly. Crafted from breathable silk, our duvets offer unrivalled comfort year-long. Finally, our silk bedding can alleviate allergy symptoms, such as runny noses or coughing, because of silk's natural hypoallergenic properties.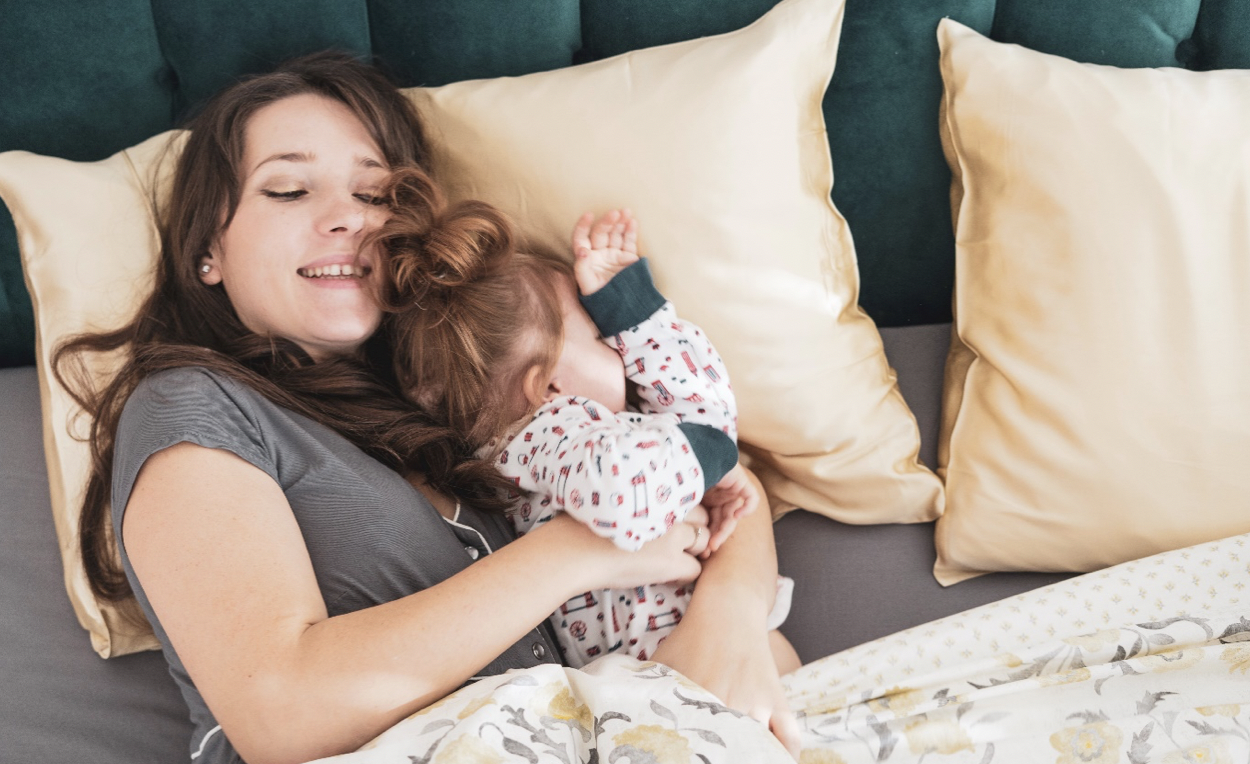 Silk pillowcases sure do look (and feel) wonderful, but besides that, they are especially beneficial for your hair and skin, as well as your sleep! A silk pillowcase does miracles for your hair, as it absorbs excess moisture away from your body, meaning that your hair will look shiny and grease-less in the morning. Also, no more thinning hair and split-ends! Sleeping with a silk pillowcase can affect the appearance of wrinkles; because of amino acids that can be found inside silk, these will smooth over your wrinkles, right as you are sleeping. Your nightly beauty regime is sorted!
Eye masks
Darkness is our friend when trying to sleep, as our minds associate light with waking up. When it's dark, our body releases melatonin, a hormone responsible for relaxing. So, try to keep electronics out of the bedroom as the blue light of your screen is a big no-no, while heavy drapes may be essential. However, another way of achieving complete darkness is by wearing an eye mask. With our pure silk eye masks, you can have a lie-in comfortably and pamper yourself, as sleep helps reduce dark circles under your eyes. As a thermo-regulator, silk will adjust to your body temperature during your slumber, leaving your skin soft and fresh when morning comes.
Nightwear
Nightwear from natural fabrics is the best thing you can choose for a good night's sleep. They simply cannot be compared to man-made fibres, such as nylon and polyester, which do not breathe well and that can cause discomfort and irritation, even to people without sensitive skin!
Lightweight and breathable, our bamboo and cotton nightwear range is a high-quality option. Combining the durability of cotton and the softness of bamboo, our nightdresses and pyjamas will be perfect to slip on all year round. Hypoallergenic and antibacterial, our bamboo and cotton nightwear range is easy to care for, so it's an affordable every day option, no matter the weather.
Our pure silk nightwear is amongst our bestsellers, because they are light enough to wear in the summer and warm enough for cold winter nights. Gentle next to your body, silk lets your skin breathe and allows moisture to escape, so you will never get drenched in sweat. If it's comfort you are after, then do not hesitate in choosing nightwear from our natural, breathable range.
Falling asleep may not be as difficult as you imagined, and with our tips, it can become even easier. Keeping your bedroom cool and dark is necessary for a comfortable sleep, but so is choosing the right bedding and nightwear. We all need sleep to help our bodies replenish themselves. So, why also not select something that will look after your skin as well? It's called beauty sleep for a reason!