Patra takes a look at the fashion styles set to be big in Autumn/Winter 2020
Although we might still be enjoying some sunshine, for the world of fashion the focus is already on next season. It won't be long before we're all swapping our summer dresses for something a little more cosy. With that in mind we thought we'd look at what the designers have in store for next season and which looks are going to be the next big thing for AW20.
What to expect from AW20
The good news is that there's plenty to get exciting about. SS20 saw a far more brands embrace sustainable fashion, and this is now becoming more widely accepted, with many designers adopting a more eco-conscious stance.
There are plenty of fresh looks to try this season, and colour palettes are diverse – from natural tones all over to deep shades and even metallics. Geometric prints and patterns are very popular this season as too are floral prints.
As ever, designers love to look to the past for a bit of fashion inspiration. For AW20 expect to witness a renaissance of trends like 1990's silhouettes and a few nods to 1790's detailing.
New Colours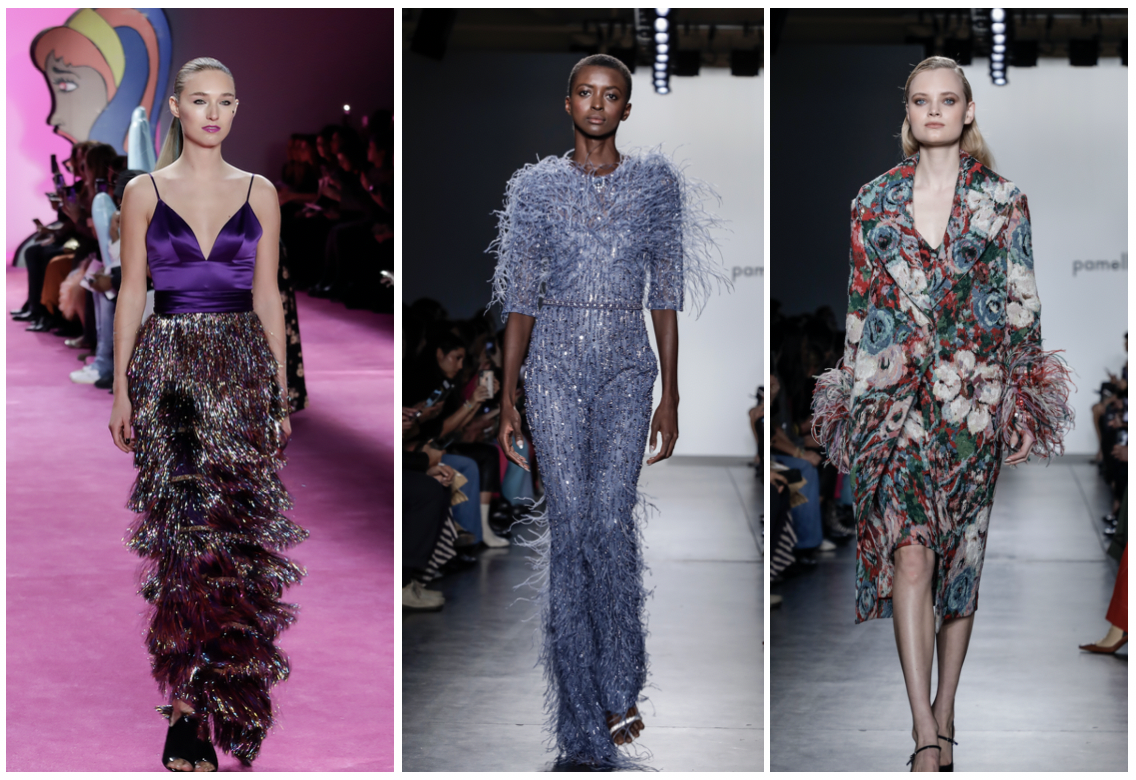 Whether you prefer to keep your clothing colours subtle or are a fan of bold hues, you'll find shades that work for you next season. Here is our pick of some of the most popular colour combinations:
Natural palettes – Earthy tones were all over the Paris runway. Different shades of beiges, browns, olive greens bringing out the nature's tranquillity.
Jewel tones – Prussian blue, Peacock, Loganberry, Scarlet – Beautiful, deep, saturated colours pulled from the semi- precious stones. Perfect way to brighten up your winter wardrobe.
Lilac addict – One of most surprising colour trend of fashion week. Adding fresh element to winter. Alexander McQueen and Hugo Boss offered head-to-toe lavender looks on dresses and suits, while at Acne and Stella McCartney, it was more subtle, on shirts and shoes.
Bold and Beautiful Prints
Prints really add an extra dimension to an outfit, and the Autumn/Winter 2020 catwalks were awash with patterns in all shapes and sizes. Florals and geometrics prints were firm favourites and some even merging the trend with organised florals and spaced florals.
Designers such as Christopher Kane, Emilia Wickstead and Erdem showed how beautifully a geometric form can give an original twist to any fall look.
Another pattern that was all over the runways was checks – timeless essential. Versace kept it classic with a checked houndstooth, and the traditional check with a bold statement in power red. Meanwhile, Gucci and Lanvin showcased more modern colour palette. While Lanvin kept the checks sleek, trench coats and midi dresses, Gucci showcased an exaggerated heritage check at their regal show.
Every season there is a new animal print, this time its tiger print. This funky trend makes a monochrome outfit interesting. Have fun with this trend and freshen up your look.
Polka dots are one of the easiest trends to have into your wardrobe and it looks as though you might see more of them next season. Designers like Chloe, Givenchy and Rodarte represented the women of the 60's and 70's with mid-length polka dot dresses in silky textures.
Silkhouettes, Details and Styles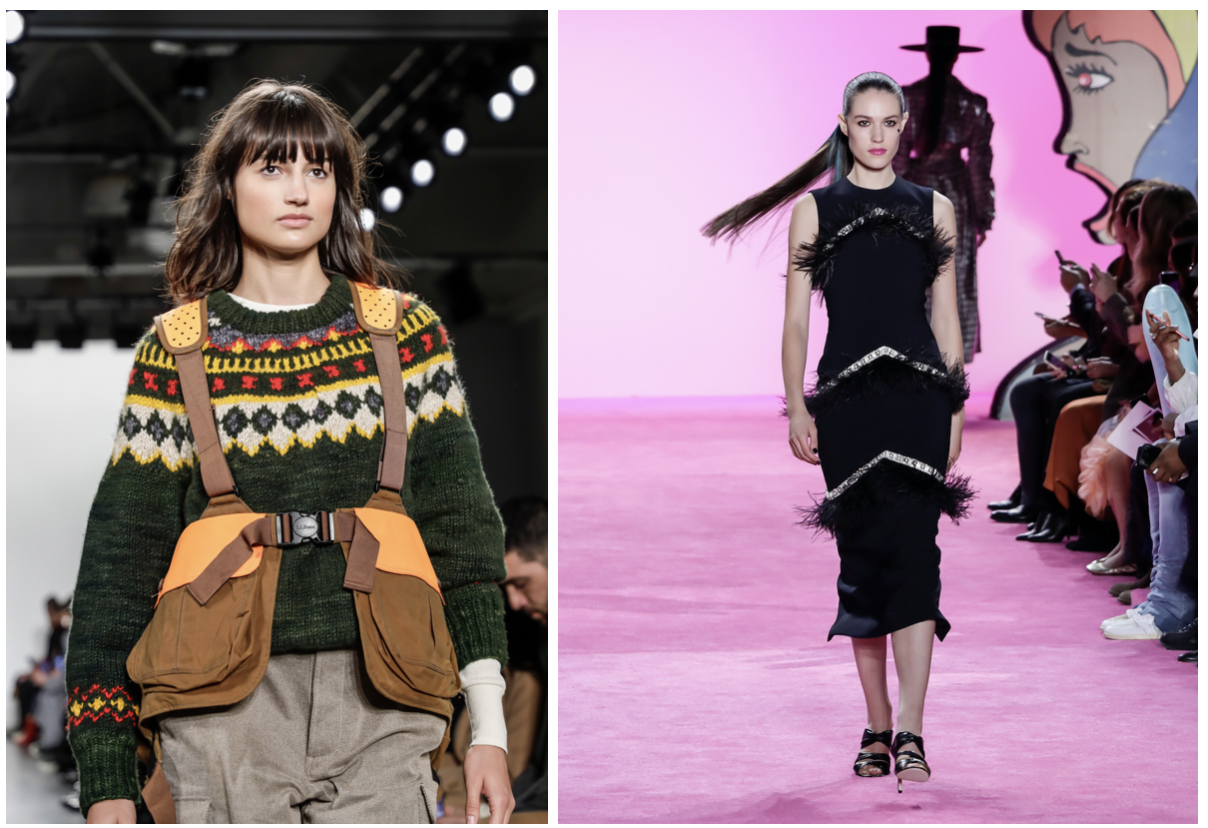 Let's start with one of the most vital aspects of any autumn/winter wardrobe – Knitwear. Several designers had different takes on knitwear with some attempting to re-invent the humble jumper. Victoria Beckham, Rejina Pyo and Christopher Kane, showed knitted separates with cut-out details. The knitwear on show at Isabel Marant and Akris,  had hints of the 80s, and the return of the jumper dress at Kenzo and Givenchy was a joy to see. Other knitwear trends included statement sleeves on knitwear, pattern clash with different textured knits and 3D stitches.
The cosy theme continues the inclusion of quite a few capes and ponchos on the runway. These included oversized capes by designer JW Anderson and Celine classic checked fabric poncho.
In terms of detailing, it appears that tassels are back in a big way. Designers added them on dresses, coats and skirts in a variety of sizes and colours.
Suits also featured on many runways, often in bright pop colours. This look managed cleverly merge masculine tailoring with vibrant colourways to produce a fun and bold style statement.
Looking forward to the season ahead
Designer fashion show will always display more daring and extravagant clothes than most of us would dream of wearing, however, from these looks more muted and wearable looks can be crafted for real women to enjoy. At Patra we believe that trends are not there to be followed but rather to inspire. Patra's in-house design team have worked hard over the past months to create a new range we are sure you'll love as much as we do. Watch this space to find out more about our new collection for AW20 coming soon!
Image credits:
Feature image: New York Pamella Rowland Fall/Winer 2020 Collection.Editorial credit: Sam Aronov / Shutterstock.com
New Colours images (left to right): First image Christian Siriano Fall/Winter 2020, Editorial Credit: Sam Aronov / Shutterstock.com, middle and last image both from Pamella Roland Fall/Winter 2020 collection. Editorial credit: Sam Aronov / Shutterstock.com,
Silhouettes, Details and Styles images: left Todd Snyder Fall/Winter 2020 collection, Editorial credit: Sam Aronov / Shutterstock.com. Right New York Pamella Rowland Fall/Winer 2020 Collection.Editorial credit: Sam Aronov / Shutterstock.com