The big global fashion trends for Spring/Summer 2020
Bored of dull cold days? So are we! Although the calendar tells us that we have a few more months to go, for the fashion industry Spring has already sprung! That's right, whilst your snuggling down in your winter knits, the models have been rocking new SS20 looks around the globe. So what can you expect for the season ahead? We've taken a look at some of the trends that are set to be big for Spring Summer 2020.
Sustainable Fashion
The good news for us, and even better news for our planet, is that for SS20 some brands have started to take on-board the importance of sustainable fashion. The environmental impact of the fashion industry on the wider world was also addressed via the use of upcycled or recycled materials. One example of this was the Italian fashion house Marni, whose show was about reusing and repurposing the staging and props from previous events. And at London Fashion Week there was a Positive Fashion Exhibition, featuring new brands and their work on sustainability and ethics.
The heighted awareness of the natural environment was great to see. From organic fabric to nature-inspired prints and repurposing – the fashion industry does seem to be taking a step in the right direction.
Colours for Spring Summer 2020
Spring summer 2020 will be full of bright colours in a fresh palette with boldness coming through the mix of contrasting colours.
Designers have been showcasing vibrant, youthful and spring like colourways.
There were a couple of colours that seemed to be particularly in favour for next season. Ever heard of the shade 'Neo Mint'? Well it is one that you may become very familiar with as this hue was seen a lot on SS20 runways.
Sunshine yellow, this colour is going to be very popular among people for the coming season. Finally, the colour known as Cantaloupe, a perfectly pale orange shade, is set to be an instant big hit in the fashion world.
Bold and beautiful new prints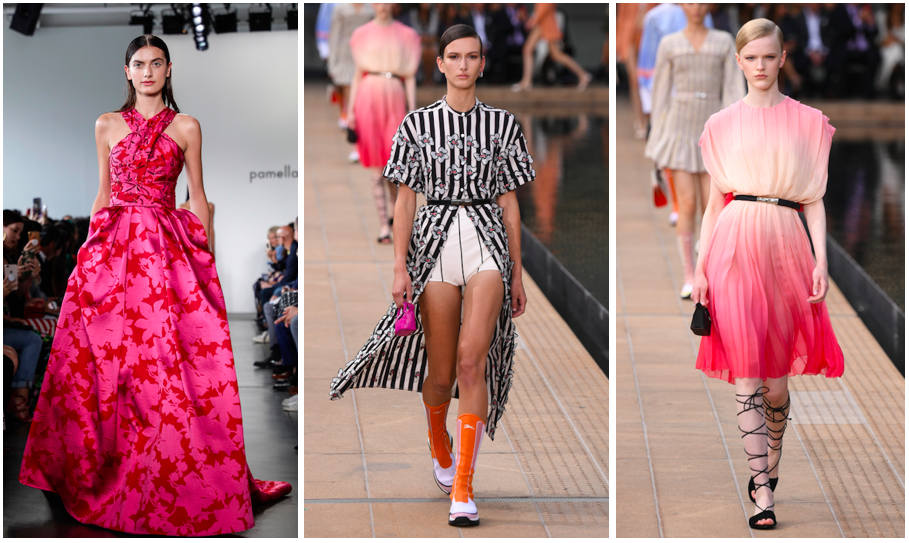 The new SS20 season will be exploding with floral prints. Florals were all over the runways of London Fashion Week in a variety of shades and prints. It was seen on sheer fabrics, on ruffled dresses, puffed sleeves and full length gowns. Foliage embroidery was also combined with many of the other trends for the season, along with the classic ditsy prints. Designer Richard Quinn, showcased huge floral dresses paired with super-sized bows, feathers and crystals. These beautifully blossomed patterns adds a touch of femininity to any look.
Geometric patterns were also seen on the catwalks of some designers, including Celine, Dior and Chanel. Styles that graced the runways included a plethora of takes on a similar theme – strips in different directions, Abstract stripes, plaid and stripes with graphics.
Next season is all about experimenting with patterns, like patchwork prints to floral collage. Maximalism is in for next season, and designers enjoyed playing with prints and scales. Burberry created graphic black-and-white prints for several of its outfits. Another brand that experimented with clashing prints was Christopher Kane, showcasing saturated coloured prints to psychedelic effect.
Silhouettes, details and styles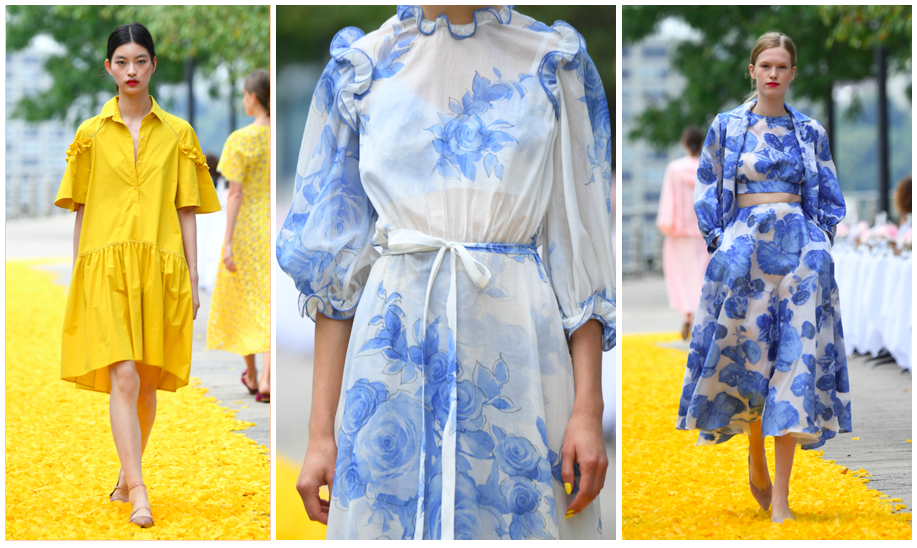 There seems to have been a fair bit of reminiscing on the past going on for some designers, with spring/summer 2020 collection trends including puffed sleeves, clashing prints and the return of the 1970s. At the other end of the scale was a more futuristic approach – wide sleeves, tent-like dresses and utilitarian style were huge trends for the London Fashion week.
While focusing on the hour-glass shape, some designers took a softer approach to styling this season with wide-legged trousers, boxy tops and loose-fitting shirts bringing them to the trend.
A reoccurring trend when it comes to spring jackets and coats. Going by the British weather, a light summer jacket for cooler evenings is always good. Designer Helmut Lang showcased boxy cropped style jackets in his collection.
Following the popularity of the SS19 boiler suit, the matchy-matchy two-piece is going to be a big trend in SS20. Floral two-piece tops and trousers look will stand out and make it look stylish. This trend was quite popular across NYFW.
Breaking away from the more boxy style, Victoria Beckham rejected short hems and utility looks in favor of super-feminine dresses mixed with masculine tailoring.
A bright and adventurous season ahead
If the items showcased on the SS20 runways are anything to go by, this year is set to be brighter and more playful than ever before. With bold hues, florals and a flashback to the 60's and the 80's, the Spring/Summer 2020 collections are set to have an eclectic array of trends.
However, we aren't all models who can carry off these wild looks easily. Thankfully, more accessible translations of these big trends will be available as retailers produce their own designs. Next season's collections are set to be a true celebration of colour, print and style.
At Patra, we can't wait to launch our new Spring range and show you what we have in store for 2020. Watch this space for more details!
Image credits:
Header image: Aleksandr Dyskin / Shutterstock.com, Christian Siriano SS20 Runway show Spring Summer Collection 2020
First group: Long Pink Floral dress: Sam Aronov/ Shutterstock.com Pamella Roland Spring/Summer 2020 collection during New York Fashion Week. Striped floral waistcoat outfit and Light pink ombre dress: Davecsmith/Shutterstock.com, Longchamp Summer 2020 collection during New York Fashion Week. 
Second group: Yellow Dress and White and blue floral dresses: davecsmith / Shutterstock.com, Lela Rose Spring Summer 2020 collection during New York Fashion Week