Making the most of your bottom half
They are the basis to many outfits, our reliable essentials we can't do without – all hail the dependable trousers! The real hero in your wardrobe, no matter the season or the occasion, our trousers work with a variety of combinations. Plain or printed, full-length or cropped, trousers crafted from natural fibres are ideal for the workplace, lazy weekends and everything in between. So, take a look and get inspired!
Pure Silk
If you are looking for a pair of trousers that elevate your style credentials without compromising on comfort, then look no further than Patra's pure silk trousers. They come in a variety of styles and silk blends, so that you can easily find something you like. Plain and printed, classic cut and tapered, our pure silk trousers will give you plenty of versatility and comfort.
Crepe-de-Chine printed trousers
These ones are perfect for summer. Breathable and lightweight, these pure silk trousers will not weigh you down. Their fluid silhouette and tapered style makes them ideal for taking them to your summer vacation and staying stylish, even if it's scorching outside.
Fuji silk trousers
Both our classic-cut and tapered trousers are the quintessence of workwear classics! Everyone needs one (or two) luxury staples and our trousers tick all the right boxes. Lightweight and elegant, our pure silk trousers look and feel gorgeous. You can team them up with your favourite separates for a timeless look.
Noil silk trousers
These are sportier trousers with a unique homespun texture. Laid-back, still scoring high in the style stakes, Patra noil silk trousers are perfect for lazy days. Elasticated waist and drawstrings at the front are just a few of the details that make all the difference. The fabric itself is ideal for people with sensitive skin. You can mix and match them with all your favourite tops and shirts for countless different looks this season.
Cotton
We cannot imagine summer without a pair of cotton trousers. Easy to care and match with, a pair of cotton trousers is a true lifesaver!
Printed cotton trousers
They look (and feel) utterly comfortable! For the beach, relaxing walks or when it's so hot you cannot stand anything else, our pure cotton trousers are here to save the day! In three seasonal colourways and with soft elasticated waist, these trousers will be your favourite summer trousers this year.
Cotton treggings
Finally a pair of trousers that practically oozes comfort – so much so they are like a breath of fresh air! Stretchy, but still structured, they are best worn with longline shirts and relaxed tops. Perfect for off-duty looks this season, our treggings have definitely a place in your spring city break explorations or your summer vacation.
Cotton cropped trousers
Offering  the perfect combination of ease and comfort, our cotton cropped trousers complete our trousers range beautifully. Breathable and stylish, our cropped trousers will refresh your casual separates this season. These trousers are stretchy and utterly comfortable, ideal for relaxed days and weekends.
Jersey
Wonderfully soft and lightweight, we cannot live without jersey! Casual dressing is now easier than ever thanks to these trousers, go from them from a relaxed coffee or shopping trip to the beach effortlessly. Your time to shine is now!
Jersey trousers
What better way to say hello to the new season than our jersey trousers. Tapered legs and soft elastication on the waist, they are comfortable and soft. Easy to care for and match with, they will be your favourite casual piece in your wardrobe. Lazy weekends were made for stylish trousers like these!
Bamboo jersey
Pull-on, with elasticated waist and in tapered style, our bamboo trousers not only look good, but they're also for the environment. Eco-friendly and sustainable bamboo together with durable cotton make this fabric hard to resist. You can style them with any tops and shoes you have, these trousers look simply amazing each and every time!
Tencel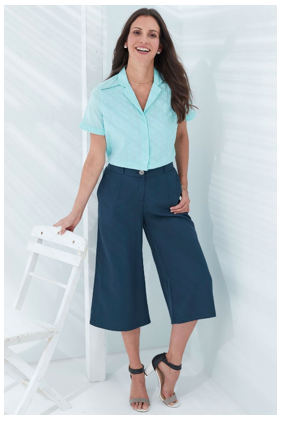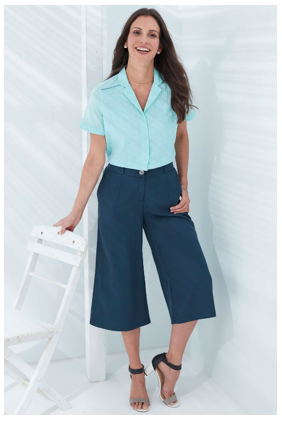 Culottes are a must-have this season and we offer them in a fabric that you cannot say no to! Sustainable and eco-friendly, tencel fabric is a new introduction to our collection that has become a quick favourite. An ultimate wardrobe staple and absolutely comfortable, our tencel culottes are here to stay!
Trousers for any occasion and every women
For this season, our trousers range offers a great variety so you can select the style, cut and fabric that suits your body and your lifestyle. Made from natural fabrics, they are perfect for both formal and casual occasions. So, we hope you've enjoyed your browsing and discovered items that can refresh your separates in an instant!