How our in-house designers produce the prints and patterns that make our natural clothing so special
Have you ever wondered what goes on behind the doors of the design room?
It is always a hive of activity, where ideas are bouncing around and the new season's collections are created, even as we speak.
At Patra we pride ourselves on our exclusive prints and designs. An awful lot takes place behind scenes before a pattern is approved, printed and our exclusive range of clothing is manufactured.
Here we offer you a glimpse into the design process in our exclusive interview with the design team. We sat them down to talk about our current Summer collection, the inspiration behind it and discover some little titbits about what's in store for next Spring-Summer.
We are in the middle of the Summer collection. How do you find it so far?
Well, we definitely learned a lot from this season. First of all, when we were designing it, we focused on styles and wanted to do something a little different. So, we introduced some new shapes, which turned out to be very popular. Women are so diverse in their body shapes and the colours they like to wear and so we made sure this collection included something for every shape. Our design team also introduced more variety in terms of silhouettes; for instance, we've included a lovely tulip shape, A-line skirts, tapered trousers, and some shorter length dresses.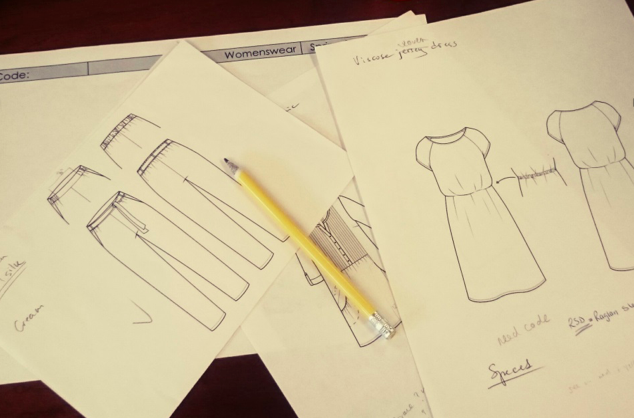 What is your creative process?
Inspiration can strike anywhere. You can have ideas when out drinking coffee and then quickly sketch them in a notebook.
Usually we start with the colours. We do our research and collate our seasonal palettes. Then we have our meetings; The first meeting is about colours, prints, ideas… in essence something to work from. After that we focus on fabrics, as each fabric acts differently and you have to think about them in terms of silhouettes and how they fall, fit and flatter our customers' shapes. We were looking for relaxed, floaty, drapey fabrics, because it's summer and we want our customers to feel comfortable. And always, of course, our focus is on using high quality natural fabrics, such as pure silk, that are beautifully soft and comfortable, because that's the Patra signature style.
Once we've decided on our colour palette and prints we move on to 'design development' as we call it. This includes a lot of sketching and putting all our ideas down on paper. Sometimes we see a detail on a garment that we like and we change it and incorporate it into our own design – make it more Patra. Sometimes the idea is entirely organic. At the end of the day we will have to make a lot of changes to reach our final product, but the journey is worth it.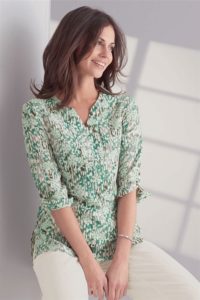 What has been your inspiration for this season's prints?
Well, nature is always a strong starting point for any Patra collection, and we also look through our vast archives of prints to see what vintage styles are appearing again on the catwalk and whether we can update them for this season. Let me give you an idea of how we approach prints.
Back in the beginning, Patra was one of the first companies to do printed trousers. It was so bold back then – as you can imagine. Patra has always done prints, and we do it really well. For this season, we used florals (but not as many as last season, which was really big on florals!) and other prints that are more abstract, such as our Pure Silk Tunic Top. For our cottons, there are also some geometric prints.
Our prints are based on what our customers love. There is an open window of communication with them, which is fascinating for us as designers. We even have suggestions on what colours we should mix together!
Do you try to keep up with the trends or create your own?
When we research the colours, we look at current trends as well, because you have to know what's happening elsewhere on the high street. We do have to be very selective though; not everything works for us. Mainly we try to give our customers the colours they love and repeatedly buy from us. A cohesive, mix-and-match wardrobe is another of our aims and our customers appreciate that. We keep asking ourselves "Would they wear that? Would our customers go for it?
Do you have any idea beforehand what would work? Do you have any examples?
We already have an idea of what works, based on what our customers like and on previous seasons. So, in terms of colours, we always have the blues. People like blue and is such an easy colour to wear, like the cornflower blue in our Cotton Mandarin Collar Dress and the faded denim shade of our Jersey V-Neck Dress. Patra customers also love the light pink and orchid tones we have introduced this season. So, we are including more of this colour scheme next year along with different prints and different colour combinations.
If you could describe Patra's Summer prints in just one work, what would it be?
Different! For they certainly are different – and of course, unique to Patra so you won't find them anywhere else. A great example of a print that is different for this Summer's collection is our Pure Silk Jersey Printed Dress. We listened to feedback from our Patra customers and went for bright colours in a bold pattern to enhance the Summer collection.
 Can you give us any spoilers for Spring-Summer 2018 or is it still under-wraps?
Let me see… We have new prints in abstract florals. There are old favourites but in new prints and colours and some exciting new fabrics. This season, we introduced new fabrics and new styles like our tapered trousers, and again for next year we are going for easy, soft natural fabrics. The styles are relaxed, comfortable and drape even better.