Tips and advice for walking – from gentle strolls to power struts
Walking a wonderfully relaxing and easy way to stay fit. What's more, experts suggest that walking just 30 minutes a day can benefit both your health and well-being.
We live in a green and pleasant land, with stunning landscapes all around us –  now is a great time of year to go and explore the great outdoors. If you're hoping to get fit or trying to shift a few extra pounds, walking can be both an easy and enjoyable way to stay in shape.
Enjoy
our

heritage

The National Trust and English Heritage own and maintain many beautiful estates throughout Great Britain. Exploring stately homes and strolling aroundpreserved groundsis a relaxing way to stay active.

Even a 30-minute walk through a beautiful setting or across the park will give you some muscle tone, build fitness and refresh you and improve mindfulness.

And if you've spent the whole afternoon exercising, you can enjoy a cream tea or slice of cake in the café without feeling too guilty!
Here are the few other benefits of getting out in the countryside this summer:
Walking is a good cardio work-out
Studies suggest that walking is a good cardiovascular work-out, walking strengthens the heart and reduces the risk of heart disease by lowering your levels of bad cholesterol which otherwise increases the risk of sudden heart attacks.
Walking helps
to
lose weight
According to fitness experts and research, 1 mile or an equivalent of 2000 steps burns around 100 calories, depending on your weight and your pace. The faster you walk or the more frequently you walk, the more weight you lose. Walking is considered one of the safest forms of exercise, as it doesn't strain your knee caps or your ankles and it's also an accessible form of exercise for almost everyone.
Walking
can
reduce
the risk of Type 2 Diabetes
Although largely preventable, according to NHS.UK, people who are overweight or obese are more likely to develop Type 2 diabetes.
Research shows that 90% of those who have Type 2 Diabetes are overweight, obesity puts pressure in the body's ability to use insulin and control blood sugar levels. The fat stored around your stomach and abdomen releases chemicals that are harmful to the cardiovascular system and metabolic system.  Walking helps you maintain a healthy lifestyle, makes you lose weight and increases your metabolism.
Walking gives you energy
Many people living in Western Europe are vitamin D deficient, the lack of vitamin D makes you feel lethargic, sick and grumpy. Walking energises your whole body, improves blood circulation, increases oxygen supply and improves bone health. It also increases the production of 'feel good' hormones that helps you beat stress and anxiety.
Tips

for

summer walking
S
tay hydrated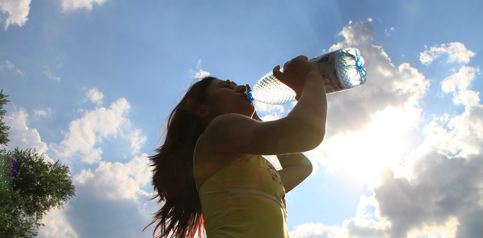 Hot weather can dehydrate you and result in feeling dizzy and disorientated. Take a bottle of water with you, and you can top it up when you need to.
Practical clothing doesn't need to be boring
Wearing tight clothes that are made of synthetic fabrics will make you feel hotter during your walk. If you are walking in the grounds of stately home a pure cotton or linen dress will keep you cool and give you a timeless elegant look. Or if you are enjoying a weekend trek in the Lake District, a pure silk vest is ideal to keep you cool under the sun and warm if it starts to shower.
Wear a dress, shorts or loose trousers in a natural fabric to allow the air to circulate and free your movement.
Keep your feet comfortable
There's nothing more uncomfortable than wearing the wrong shoes, and wearing inappropriate footwear can also cause slips and accidents.
Plimsolls and flat shoes with cushioned soles look great and won't make your feet ache. Try to avoid synthetic fabrics and opt instead for canvas or leather.
Make sure you wear smooth socks that are made for walking. Seamed socks made from the wrong materials can rub and chafe, quickly becoming uncomfortable. Patra natural fabric silk and cotton socks are soft on the skin with hand linked toes, so no harsh seams, ideal for those enjoyable strolls in your favourite summer walking shoes.
If you are looking to get a bit more exercise, need to lose weight or improve your health, it doesn't have to involve hours at the gym and a diet of lettuce. Keeping active and having a healthy lifestyle can be fun and relaxing. Plan your walking routine and put your best foot forward!