The easy way to accessorise and make the most of your outfits
If there is one thing that can complete your outfit and make it memorable, it's the accessories! Your accessories are the finishing touches that make everything you wear come together. It doesn't take a lot of effort, only a little patience and some creative flair! If you are like us and probably have a lot of silk scarves, jewellery or belts that you use, then you'll love this guide of handy tips. We're sharing some easy ways you can seamlessly work your accessories into your outfits, so you can wow each and every day!
Find the most important part of your outfit and accessorise around it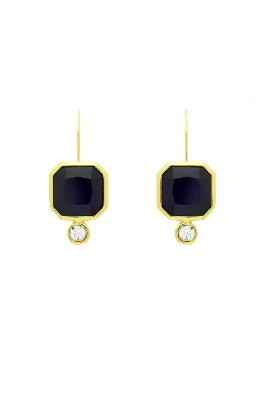 When you've finished dressing and are trying to decide which accessories would work best, you can ask yourself a simple question; where are your eyes drawn to? If the answer is the neckline, go as bold as you like with your upper body! You can wear a gorgeous pair of drop earrings, your favourite hoops, a statement necklace or you can choose a silk scarf to bring attention to your neckline.
If, however, the focal point of your outfit is the waistline or the bottom, you can still accessorise, never fear! In this instance, stud earrings or some understated earrings like these Patra ones will be simply perfect! Otherwise a simple pendant necklace will complete your outfit perfectly!
Scarves around your neck…
No matter your outfit, you can always add a silk scarf to make it look more polished. A fan of jeans and a simple T-shirt? You can go for a lightweight silk scarf with bright colours wrapped around your neck. Have you decided on wearing a skirt with a top? An elegant scarf with an interesting pattern will complement your outfit nicely. If you are more of a dress person, then you can go bold or match your scarf to the colours of your dress. You can even go neutral with a long scarf in greys, creams or beiges and a skinny belt, if you want an understated outfit to work for you.
Get creative
If you thought that scarves only belong to your neck (tied, looped or just thrown on), then think again! You can put silk scarves on the handles of your handbags, around your favourite sunhat or as a hair accessory. You can even ditch your regular belt and instead use a long scarf with your pair of shorts. There are as many ways to style a scarf, so why not have a go, switch up your looks and get creative!
Belt up!
Belts – apart from being functional – can also make a fashion statement. Belts, especially those thin ones, can work with a variety of pieces, such as dresses, skirts, trousers or jeans. You can match your belt to your bottoms if you want a streamlined effect that creates a longer-leg illusion or you can have it stand on its own, bringing attention to the part of your body you want to highlight. You don't need to be matchy-matchy with your shoes, bag and belt, but you can wear one of these in a signature colour to make the whole outfit look modern and fresh.
Consider the time and occasion
The style rules may be more lax than in the past, however you always need to bear in mind the occasion and time of day you are dressing for. You can keep your accessories bright as you like for evening events, but in the mornings, it's always better to go for understated elegance. Same thing applies to workplace; a colourful silk scarf or some noisy bangles can be great for a creative office, but that doesn't mean they will suit a more formal environment.
Experiment
One of the best things you can do is to always experiment with your style. No matter whether you are more a fan of put-together looks than boho or even vintage-inspired style, you will definitely find an accessory or several pieces that take your fancy! A silk scarf, for example, will instantly elevate any outfit, even if it's the simplest jeans and T-shirt combination. A statement necklace can breathe life into your basic tops, while a belt will cinch in your waist and help balance your upper and lower body. Just remember to be yourself and let your unique personality shine through!