Ways to enjoy the festive season without being wasteful
Sometimes it seems like Christmas gets bigger (and more expensive) every year – with gifts, food, decorations, clothing and other treats getting more extravagant all the time. It can all make this time of year not only stressful but also very wasteful. Having a more sustainable Christmas means you can save money, reduce waste and help the environment. So, if you are looking for ways to make this year a little more eco-conscious, you have come to the right place. Here are some simple ways to make this Christmas a bit greener without reducing any festive fun!
Plastic free wrapping

The majority of Christmas wrapping paper contains plastic and can't be recycled, so why not swap it out for a more environmentally friendly alternative. Brown packing paper or newspaper tied with a ribbon or twine can look lovely and is recyclable. If the idea of brown paper sounds a bit boring why not decorate it (or get your kids to) with stamps or inks.
Instead of covering a gift in paper you could also consider making the packaging part of the gift itself. You can wrap a present in a silk scarf or put it in a pretty box, that the receiver can use again. Gift bags are another great choice. They take the hassle out of having to gift wrap and can be re-used many times over.
Don't forget to save any ribbons, wrapping and gift bags when you receive a gift, store them away and reuse them another day.
Get crafty
Do you enjoy craft, knitting or cooking? If so, why not make the most of your hobby and share your produce with your loved ones. Homemade sweets, wines and preserves always go down a treat. Save your old glass bottles and jars throughout the year to reduce packaging.
If making things really isn't your thing there are still some easy things you can do at Christmas time that won't involve any spending or waste. Cut up old Christmas cards and turn them into gift tags or use them to make new cards. Go outside (if foraging please do so responsibly) and take cuttings of pine, ivy and holly and use them to decorate your home.
Give practical gifts
When buying for presents try not to panic buy and avoid the latest gadgets, toys and fads. Think about the purpose and value of the gift. Clothing is a great option. Instead of buying a small gift for a relative, you could consider clubbing together with family members to buy something really special, like a cashmere sweater or a silk top, that you know someone would treasure and get a lot of wear out of. And for smaller gifts, think about opting for useful items, such as socks, belts and other accessories, rather than something made of plastic.
A Living Tree
If you have a plastic Christmas tree, by all means continue to use it for as long as possible. However, if you prefer a real one then why not think about a living tree? These trees come in pots and can live outside the rest of the year. This will not only save money in the long term but also reduce the waste involved in recycling the trees at the end of the season.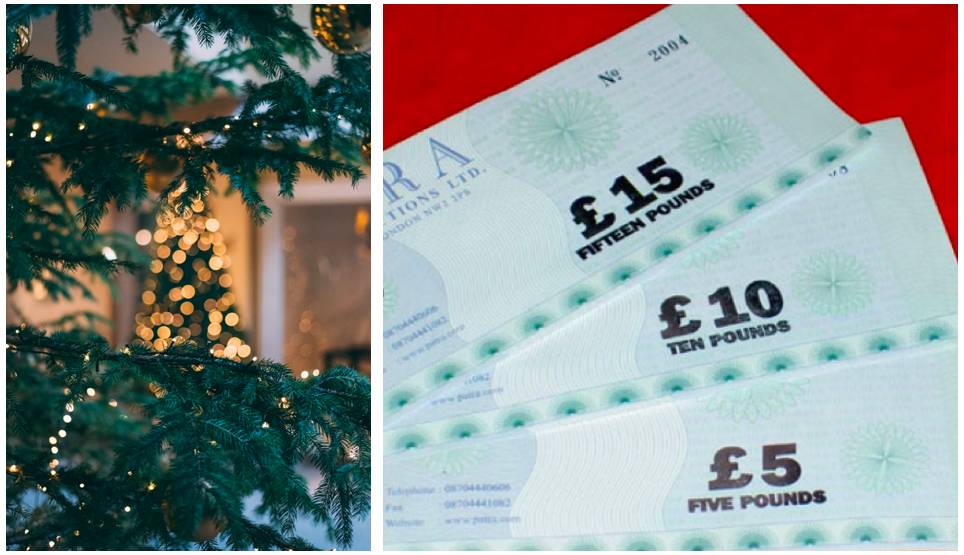 Gift vouchers and giving back
Cut down on shopping, wrapping and avoid giving an unwanted present by giving a gift card. Select a retailer or brand that you know your loved one likes and let them select something they really want! If you know someone who has everything or cares deeply about a particular charity, you could also consider gifting them a donation.
Avoid synthetics
Sometimes plastics in items aren't that obvious. A lot of synthetic clothing contains microfibers that are contributing to sea pollution. Natural fabrics make beautiful gifts, often last longer and are better for the environment. Take it one step further and look out for organic fabrics, like organic cotton, and more sustainable materials, such as bamboo and Tencel.
Do you really need it?
Finally, think before you buy, especially if it is made of plastic. Little nick knacks, decorations and cheap items may seem like harmless bargains but chances are they designed to be disposable, may break easily and can't be recycled.
A more sustainable Christmas has so many positives. Not only is it so much better for the environment but it also makes your life so much easier – just think about the amount of rubbish each home has to clear up and throw away every Christmas. Wouldn't it be great to celebrate without mountains of plastic and packaging everywhere? An eco-friendly Christmas will bring joy to your home as well as joy to the natural world!
Do you have any great tips to make Christmas more sustainable? If so, we'd love to hear them. Leave your suggestions in the comments below.