The top colours, prints and cuts that made the grade on the AW18 designer catwalk
The arrival of this Summer's collections came with the arctic temperatures and now we are about to welcome our Autumn Winter 2018 ranges in the heat wave! Most of us only have holiday destinations and cold beverages on our minds right now. Nevertheless, temperatures will inevitably drop and we have to be prepared…at least when it comes to fashion, that is!
The Patra team looked at what the designers where showcasing on their catwalks this year, expecting to see a lot of empowering looks and strong statements following the latest global events and that's exactly what we got! As attitudes change, we see the metamorphosis of fashion as well. There was plenty to get inspired by – the details, the use of colour, bold prints and the overall mood of the season. Here's a selection of the most popular trends and our own take on it all.
Rich Colours
Colours were deep, beautiful autumn shades of chocolate brown, cinnamon, burnt orange and mustard, dark greens and rusty reds. Designers such as Etro and Chloe features lovely golden yellow shades and beautiful dessert tones, referencing the seventies for their cool retro vibes.
Too matchy-matchy? Not next season. Designers such as Moschino and Rochas showcased a head-to-toe mono looks in beautiful yellows and corals. Take inspiration from our ever-so-colourful monarch, she's 'the Queen' of mono-dressing!
Designers took some literal inspiration from the army dressing with Temperley and Simone Rocha showing embroidered aviator jackets and long coats in khaki, military green and olive. Whether it's the structured uniformity and practicality of it or just a fashion statement, it seems to work.
Powerful Prints
Whether it was the Queen's presence or some other throwback in time, we saw lots of retro printed scarves being wrapped around heads, shoulders and bodies. Richard Quinn dressed the models with scarves from head to toe – literally! Other designers like Oscar De La Renta took a more subtle approach draping the beautiful silks over one shoulder. Retro or not, for us at Patra the printed silk scarf is a centre piece in our accessories range.
It happened last year and it's happening again. Next season is welcoming the floral prints in winter – because who doesn't like that! Moody florals on dark backgrounds and chintz-like pale and pretty versions reminiscent of a vintage wallpaper. Peter Pilotto, a master of print and colour, showed us silky bias-cut dresses. Oscar De La Renta's flowy dresses and voluminous skirts were covered in big summer flowers almost as a protest against winter. Some designers went for a print mash-up, mixing and overlapping clashing prints for a more dramatic effect. They might say it's the new way to wear prints this season but we firmly believe that less is more and one beautiful print can make more of a statement than 5 of them together.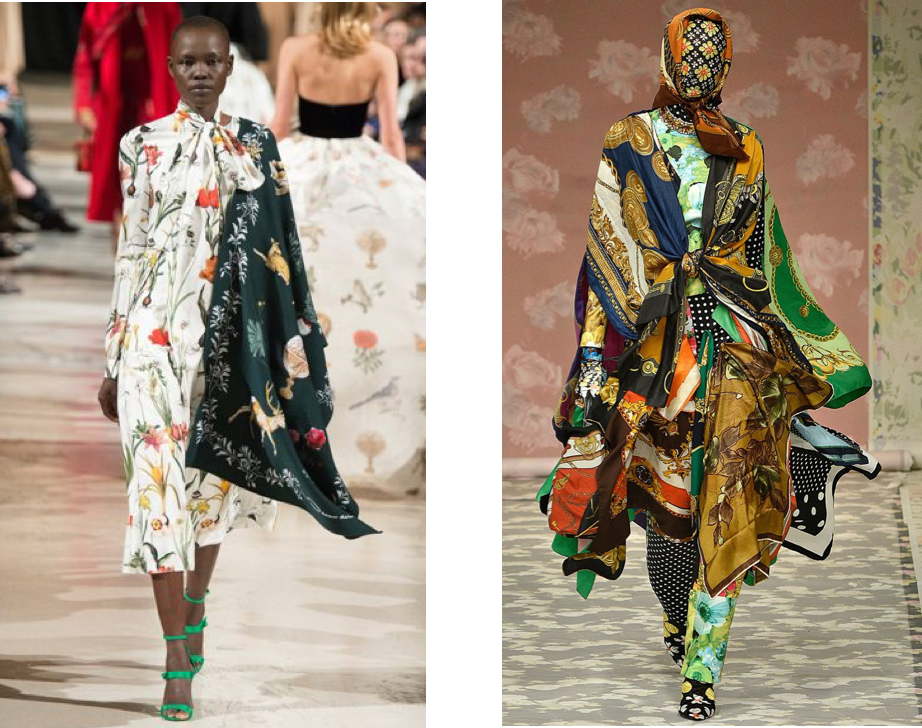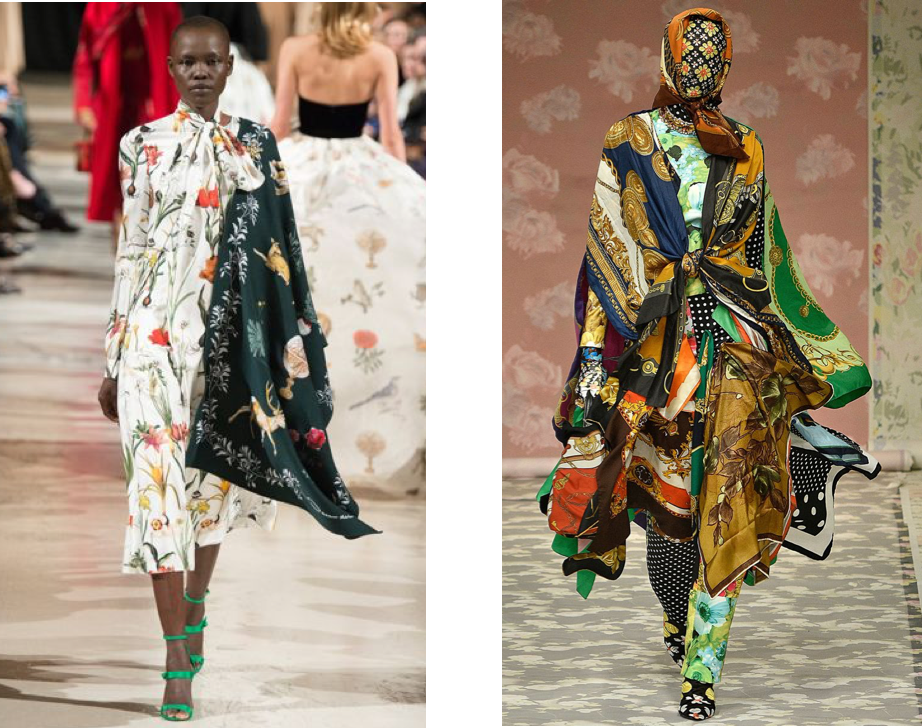 Silhouettes/styles
Capes and quilted coats are back! We all know that quilted outerwear is a must-have for the winter – it's cosy and it always comes in a variety of shades! Capes, on the other hand, are like the elegant update to a winter coat that you never think you can pull off. Maybe it's time to try it! Isabel Marant did a cosy, drapy poncho version and Erdem kept it structured in a beautiful dramatic print.
Be on the look-out for pleats and don't forget your layers. Because if there's one thing that the unpredictable British weather had thought us is how to layer! However, some designers took the trend to a whole new lever with Balenciaga dressing their models with layers of 3 or 4 coats at once.
Checks and tweed are making their way into yet another season. Exaggerated, misshapen, colourful – you can mix and match them as you please. The heritage fabrics were a popular choice amongst designers like Stella McCartney, Mark Jacobs and of course, Chanel.
Next season patterned knitwear will take over and particularly we'll see the return of the Argyle design. Different colours, shapes and patterns – some designers kept the traditional look others took a more liberal approach. Pair with trousers or a sequence skirt if you want to bring it up a notch.
The runways showcased a multitude of glossy, lacquered fabrics, silver headwear and sequence, super-sized 80s frills and ruffles. Designers didn't stay shy of animal prints either! Max Mara, Top Ford and Victoria Beckham, all known for their minimalism and plain colours, featured the popular patters in their collections. We thought we'd give these particular trends a miss and focus on the ones that suit us.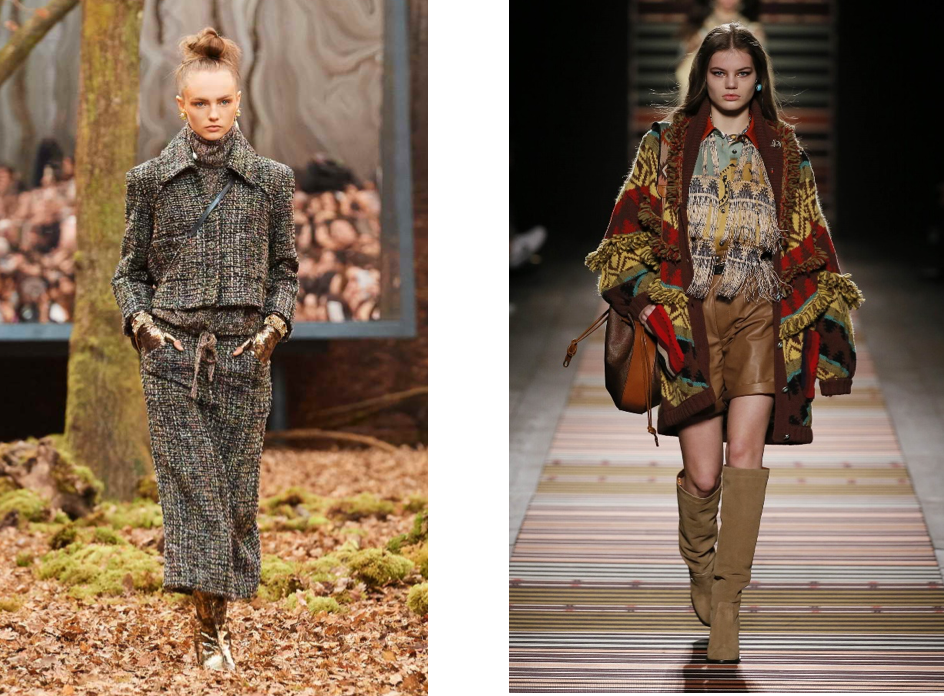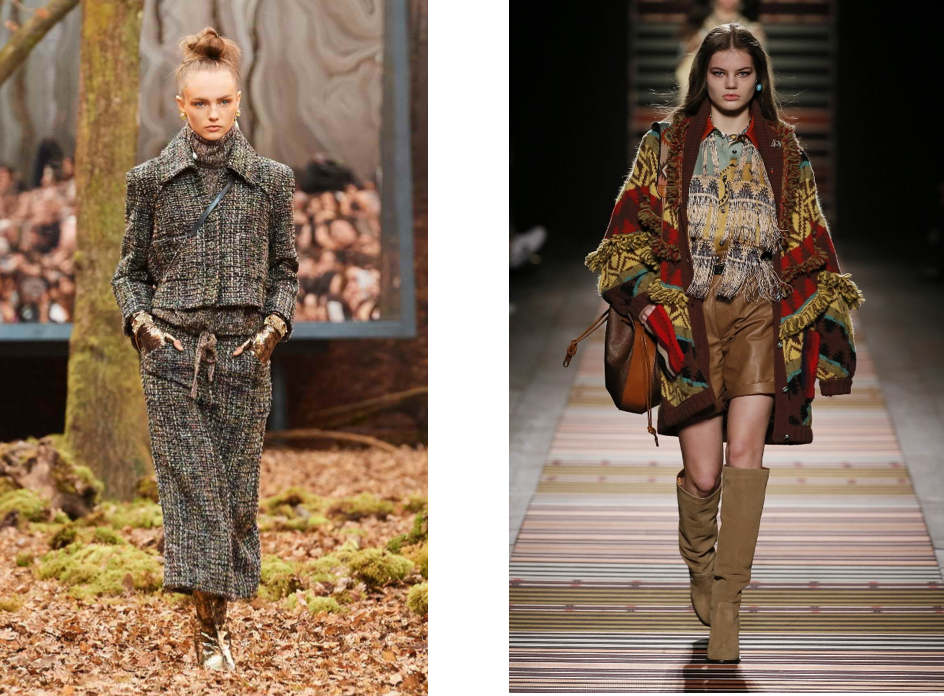 The winter season brings as much joy as it does nostalgia for the warm carefree summer. Still it is a fantastic season that brings people together. Dress as you please and don't be afraid to be bold. At Patra we believe that trends are not there to be followed but rather to inspire – so have fun with it. We hope you like our take on the autumn winter trends with our new collection, which will be out very soon!