The best looks and our favourite styles from the Patra Spring / Summer 2018 Collection
Whether you're thinking of buying something special or just want to refresh your wardrobe, the Patra top 10 is packed with pieces that will meet your needs and items we just can't live without! There are skirts, dresses, separates and accessories that offer inspiration for the season as well as those staple seasonal essentials. For any event you have coming up or for any casual outing, these fashion pieces are already clear favourites.
The Go-to Jersey Skirt
Skirts are on of Patra's go-to items for effortless spring and summer looks, and what could be better than our jersey maxi skirt? Worn with heels, wedges or flats, this is a real head-turner! In four new colourways and in a soft and comfortable fabric, you will have so much fun styling it up or down as you please!
Comfortable and Cool Cotton-Linen Dress
Patra's cotton and linen dress has proved, time and again, to be a true favourite. Beautifully tailored and made of a perfect cotton-linen blend, proving to be highly popular for spring and summer – it keeps you cool, fresh and stylish. In earthly colours, our cotton and linen dress is fashionable, year after year.
Beautifully Natural Bamboo-Cotton Tops
Who doesn't want a casual top or two for spring and summer? Or perhaps a new way to freshen up your wardrobe staples? Well, no matter the reason, we have introduced these bamboo and cotton tops, and they have already won hearts. For off-duty looks and all-around summer wardrobe basics, our two bamboo and cotton tops tick all the right boxes. Still resisting the temptation?
Noil Silk favourites
Whatever the occasion, a tunic or a dress in noil silk is indispensable during summer. Our silk tunic and dress are perfect on sunny weather – the perfect examples of versatility and comfort. Breathable and kind next to the skin, these Patra pieces are blissfully cool when it's hot outside. Made from a durable and long-lasting fabric, they will be with you for many summers long.
Versatile Viscose Trousers
One of our most desired trousers of the season are made from a lightweight fabric in a tapered style. Our pure viscose trousers they tick all the right boxes and are oh-so stylish! You can dress them up or down, pair them with sandals or wedges, our trousers are incredibly versatile. Soft, comfortable and with excellent drape, our viscose trousers are ideal, packed in your vacation bag as well.
Patra's Cotton Printed Trousers
Our relaxed cotton trousers are definitely one of our favourites this season. These are the perfect casual trousers for a summer's day. Soft and smooth, they let the skin breathe and are wick. Team them up with a summer tee and flat sandals, they are effortlessly easy!
Essential Accessories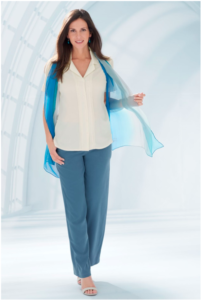 Belts
Once again belts are on-trend this season and what better way to embrace that than with our braided belts? In a variety of colours, you can style them with trousers and jeans, or even over jackets and coats, for the most adventurous of you. It's never too late to add a pop of colour to any of your outfits!
Silk Scarves
It's impossible to have too many silk scarves, and this one is a clear Patra favourite this season. In airy watercolour design and exuding pure elegance, our silk scarf can be used to accessorise any outfit. Lustrous and lightweight, this is a scarf you can wear when you want to make an extra special appearance or give out that old-time glamour!
Making Spring / Summer Outfits Effortless
From scarves to sundresses – sorting out the perfect Spring / Summer wardrobe can be a challenge! At Patra we've picked some of our favourites that will make your wardrobe not only practical and easy, but more importantly, comfortable and cool. These pieces are made with beautiful natural fabrics like linen, silk, bamboo and cotton. Designed to suit real women and work with you; they are long-lasting, flattering and versatile – everything you need to create so many perfect looks. You'll be able to make Spring Summer 2018 the best yet!