Silk outfits to suit every occasion
Silk is a wonderful fabric; lustrous, soft and elegant. It is a multi-faceted material – skin-kind, strong and stunning. With our new autumn staples and statement pieces, you can now mix and match our separates and dress from top to bottom in silk! So, discover some new ways to wear silk, take some inspiration from our silk bestsellers and enjoy!
Outfits with Fuji Silk Trousers
Our pure silk trousers are the perfect item for nine to five – and beyond. They are so versatile, you can easily match them with accessories and the right shoes to dress up or dress down. Because of their matte finish, you can safely wear them to a business meeting, a dinner with friends or even for a special occasion. As a daily essential, these trousers can give you effortless elegance from morning until evening. When matched with a silk shirt, or Patra's newest silk tunic, this outfit combines comfort and style. Why not complete the look by added one of our silk scarves to create a lasting impression?
Casual silk outfits
For a more casual look, try matching our silk trousers with one of our silk tops – and finish it off with a Patra silk gilet if you fancy. This type of outfit is ideal for a weekend outing or a coffee with friends. With high heels or a nice pair of flats, you can keep it simple or add a nice pair of earrings, the result is the same; looking polished and stylish has never been so easy!
Outfit with Noil Silk tapered Trousers
Tapered trousers are a brilliant wardrobe essential this season and this pure silk shirt is a smart alternative to streetwear. Versatile and easy to wear, you can style them however you want. Whether you are looking for smart-casual attire or want to dress them down with turn-up hem, these trousers tick all the right boxes. When you combine a silk shirt and tapered trousers in the same colour, it creates the look of a jumpsuit without any of the inconvenience. Made from pure silk, which is kind to the skin and comfortable, this is an outfit you will return to time and time again.
Outfit with Noil Silk Trousers
This outfit is the epitome of comfort. Warm and sportier than other types of silk, it is the ideal casualwear combination. What could be better than a silk shirt and trousers together? So comfortable even when it's chilly outside, but still offering a good dose of style to an everyday outfit.
Bright colours can lift your mood in a second and they are easy enough to wear for a walk or spending the day with a nice cuppa and an interesting novel.
Underwear, Socks and Turbans
Silk shirts and trousers look and feel amazing – so why not add a little more silk to your wardrobe with some underwear as well.
Sets of Patra pure silk underwear work wonders; non-irritating and oh-so soft, they offer you stunning and comfortable protection against the cold and humidity. Available in a variety of colours and styles, you will never get bored of them!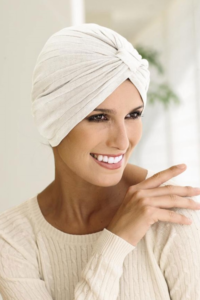 With our silk socks and turbans, you can literally wear silk from head to toe! Hand linked, smooth and practically seamless, our pure silk socks are a treat for your feet! In different lengths and colours, they keep your feet comfortable and warm. The high performing, quality controlled fabric makes our pure silk socks an essential part of any autumn and winter outfit!
You can bid goodbye to bad hair days with our silk turban. Stylish and comfortable to wear, it can match each and every outfit you have. Also soothing for medical conditions, our silk turban can give you all the relief you need. Glamour and uniqueness combined, this turban is the perfect finishing touch!
What could be better than a silk shirt? An entire outfit in silk of course!
If you have a special event coming up and can't find anything to wear or you just want to add an outfit (or two) to your wardrobe, we are here to offer you a helping hand. Whatever the reason, these autumnal outfits and accessories will lift your mood and keep you stylishly warm and comfortable for the days to come. With Patra it's never been easier to dress in silk from head to toe.