Stylish, natural and colourful pieces for you to enjoy in the coming seasons
Our fabulous Spring/Summer collection has arrived and it's better than ever. We've taken some inspiration from the key global trends and put our own stamp on them. By focusing on subtle and chic looks, we've produced relaxed designs that are as stylish as they are comfortable.
We'll also be introducing some lovely new textures, as well as signature prints to complement our new range. What's more, our soft, breathable and all-natural fabrics will keep you cool on warmer days.
We're very excited to share the core elements and inspiration behind Patra's new SS17 collection.
Devine inspiration
At Patra, we're not led by fashion trends but we always like to keep up-to-date to ensure we're providing you with the best possible style and fit.
This season we are embracing different body shapes to produce quality clothing for real women. We tried to include something for everyone – whether you're gorgeously curvy or beautifully boyish.
As the weather gets warmer, it is more important than ever to stay comfortable. That is why, for this Spring/Summer collection, we've focused on relaxed shapes, more volume and shorter lengths. We wanted make styles softer, more flowing and draped.
Powerful prints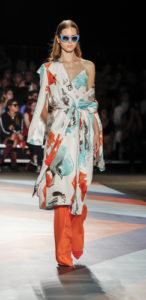 Forget tiny delicate florals – this season, designers showed off a bolder, more vibrant type of flower power. Alexander McQueen, Jasper Conran and Christian Siriano all used eye-popping bouquet prints to full effect. And so have we – for Spring/Summer 2017 our florals are blooming more than ever.
Another key fashion trend seen on the catwalks were abstract prints. Prada, Miu Miu, Ailanto and Gucci used mosaic prints and geometrics to produce a variety of colourful creations.
Mosaic and abstract patterns are also making our collection stand out this season. We've added a contemporary twist to some of our Patra classics, in both knitted and woven styles. Coming in colours that you'll find hard to resist.
Colour your world
For Spring/Summer we've used a combination of bold brights and subtle pastel colours to make a refreshing palette. At Patra we aren't afraid of colour – it's pretty, fresh, makes you stand out from the crowd and look younger.
Bold brights
Valentino, Balenciaga, Céline and Lacoste embraced vibrant shades, from bright reds to neon yellow. And our new collection definitely doesn't shy away from bold colours – you'll see items in stunning coral, magenta, gold, ocean and chilli – perfect to brighten up, our sometimes less than sunny, summertime.
Subtle pastels
And for those of you that aren't quite ready to take centre stage in brights and prefer a subtler approach, our pastels are sure to please. Faded denim, jade, orchid and aqua also feature in our new collection.
Deeper and darker
An interesting trend on the runways was another we've adopted – incorporating some deeper shades into a summer palette. Designers such as Erdem and Gucci made florals a little moodier by giving them a darker relief. And we've included some navy, grape and aubergine hues for Spring/Summer – perfect key pieces that will stay on trend all year round.
Design Details
This summer season it's all about comfort and fit. We've introduced some shorter length dresses for those of us who aren't Naomi Campbell. Just as Jil Sander and Stella McCartney did in their SS17 collections, we've used pleating, draping and volume to create softly-tailored, flattering looks.
And one of our newest additions, the flare maxi skirt, is a prime example of this style. In signature viscose jersey fabric oozes both comfort and sophistication. Our stretch cotton tailored jacket is another essential for every woman's wardrobe and our tulip shape dresses, in stretch textured cotton and soft viscose jersey, enhance your feminine shape and feel fabulous.
New Fabrics and Textures
This season we've also introduced a fresh new fabric to the range – woven viscose. It feels silky soft on the skin and is perfect for the hotter days.
Our organic cotton and modal jersey are both long-lasting and dependable, holding great and will not stretch out when worn. Ideal for those tops you'll want to wear again and again.
You may also spot some knitwear in our latest collection! Textured knits in summer? Well, our jacquard design is beautiful and feels very light on the skin. Our cardigans make the ideal cover up, and the breathable knit is lightweight enough not to overheat.
The Tapered Trousers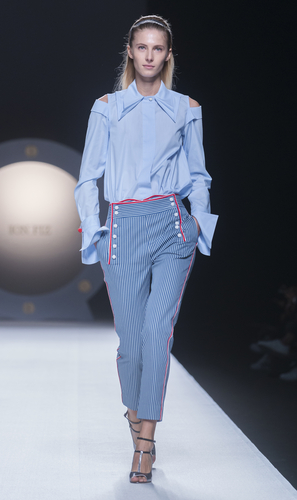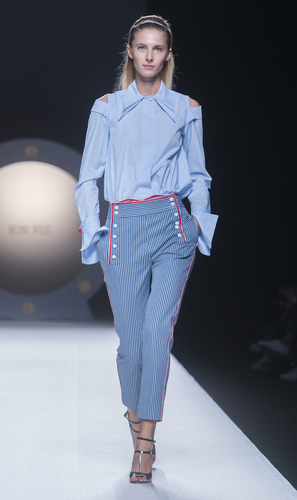 Trousers also made a comeback on the runways of many designer's Spring/Summer collections, with DKNY, Max Mara and Ion Fiz all covering legs with beautifully cut trousers. Our new tapered trousers are a slimmer fit but that doesn't mean you lose out on comfort, available in different fabrics such as stretchy cotton or lovely silks, they are a flexible look that are designed to flatter.
With shades such as easy navy, cool stone and smoke blue, you'll be able to mix and match these trousers with a wide range of tops and tones. And our smooth crepe de chine style trousers come in a pretty summer print – the ideal accompaniment to a simple summer tee.
So, welcome to Patra's new Spring/Summer collection, we are sure you'll love it as much as we do. Full of exclusive feminine prints, fresh styles and beautiful fabrics that are ideal for warmer days. It won't be long before the grey days are behind us and we can't wait to start wearing our new styles and enjoy some sunnier times in style.
Editorial credits:
Neon brights: Alexis Mabille,Sam Aronov / Shutterstock, Inc
Big florals: Sam Aronov / Shutterstock, Inc., 
Trousers: catwalker / Shutterstock, Inc.