The history, properties and benefits of a
multi-purpose fabric
From your kitchen tea towel to your favourite summer jacket – linen is not only incredibly versatile; it is also all natural and amazingly durable. It's a fabric that is all around us, and has been for centuries. Here we take a closer look into the fascinating world of linen – its history, properties and the many products manufactured using it.
History of Linen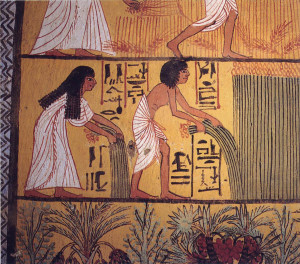 Linen is one of the oldest fabric's in the world. Although historians are uncertain about exactly when the fabric was invented there are examples of it, discovered in Turkey, 7000 BC. The Egyptians also loved linen and it was one of their principle fabrics. The cloth was worn by the common people, their impressive sails were made from strong linen, and of course their famous mummies were bandaged in it.
The Greeks and Romans also used a lot of linen. It was worn as togas or robes and used on a daily basis. The Romans were known to have embellished their robes with gold and silver, embroidered to demonstrate their status and wealth.
In more recent times, during the 16th century it was Germany and Prussia that would become famous for producing the best linen. Saxony and Silesia were particularly famed for their strong fabrics. Both fine and coarse linen was produced in this region and exported throughout Europe.
Properties and benefits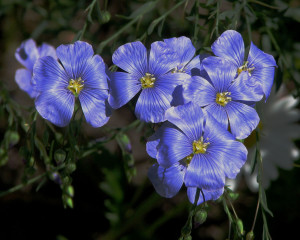 Linen is all-natural fibre. Made from the fibres of the flax plant it has similar qualities to other natural fabrics, such as cotton and silk. It is a fabric that is probably most associated with its durability and strength, which make it excellent for sheets. This hardwearing fabric can withstand a lot – able to be washed at high temperatures and tolerate a hot iron. What you may not know is that linen is also antifungal, antibacterial and can protect from harmful solar radiation. When woven finely, this cool lightweight fabric makes an excellent choice for summer.
Benefits:
All-natural
Antifungal and antibacterial
Strong and durable
Easy to launder
Easy to dye
An ideal fabric for summer:
Types of linen: linen mixes and their advantages
Woven in different ways, the many properties of linen of can be adapted to benefit us in different manners.
| | |
| --- | --- |
| Name | Properties, benefits and uses |
| Sheeting linen | This sturdy, mass-manufactured form of linen is a heavy form used to make sheets. |
| Damask | Woven on a jacquard loom, the flat fibres produce a smooth texture. This type of weaving is often used for table clothes and napkins. |
| Glass towelling linen | The loose weave of this type of linen makes it more absorbent but less durable. A plain-woven linen, it is used for cleaning clothes and tea towels; it is often woven with a stripped pattern. |
| Holland Linen | This is also a plain-woven type of linen. However, here oil and starch are used to treat the fabric, which gives it an extra layer of protection and strength. It is often used to make lampshades and window blinds. |
| Cambric linen | Fine and thin, this pretty variety of plain-woven linen is used to make handkerchiefs and lingerie that need delicacy and softness. |
| Bird's eye linen | This fabric is characterised by its small diamond-shaped pattern that resembles the eye of a bird. It is commonly used for nappies and the towelling cloth. |
| Blended linen | When blended with cotton a softer and easier to handle fabric is created. The linen also adds a higher thermal insulation to the blend; this combination of strength and softness makes for an ideal t-shirt. |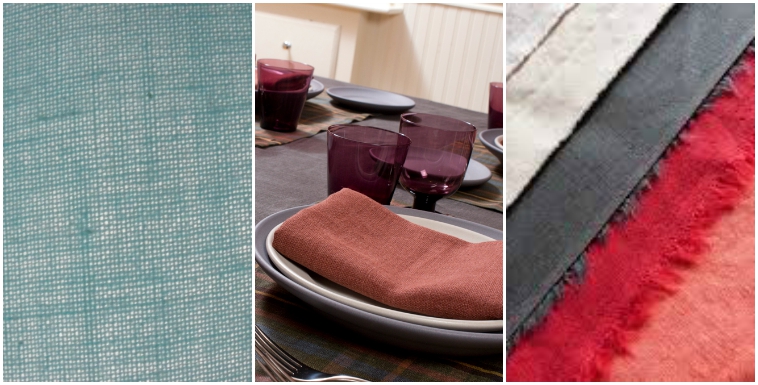 Modern-day apparel
Linen is a multi-facetted fabric, used all around our homes, the list of linen products is endless – towels, aprons, sheets, bedding and bags are just a few that most of us use on a daily basis. But linen also makes an excellent fabric for clothing. When blended with cotton it makes a garment that is easy to wear and easy to care for. This Cotton-Linen Shirt is has a neat versatility to it, and our beautifully tailored Cotton-Linen Dress is a summer essential. When mixed with silk an extra dimension is added – pieces like these Silk and Linen Shorts are sumptuously soft and stylish.
Dating back more than 7000 years, favoured by emperors and commoners alike, this is a fabric that has withstood the test of time. Linen's strength and versatility makes it a firm favourite all around the world and will remain a staple in our lives for centuries to come.