Stay cosy the natural – and cheaper – way in pure silk, natural duckdown and brushed cottons
Winter is coming, and as the temperature drops, our heating bills go up. We've put together a great list of ideas to help you stay warm and cosy this season, without spending a fortune on cranking up the heating.
Our soft, natural fabrics are a luxurious way to keep warm – whether you're at home or out and about.
Hot drinks and layers
When you're at home, the cold can make you sluggish and tired. Tea and coffee gives you a quick pick-up and helps to warm you up on a cold day. In the evening, snuggle up in front of the TV with a cosy duckdown bed jacket and a soothing hot chocolate made with milk.
Warm comfort foods are also a real benefit, hot porridge in the mornings followed by soups and stews for lunches and dinners, high in carbs these warm you from the inside out.
Think about layering up at this time of year, as it'll be much easier to add and remove items of clothing according to your activity. When you're cooking or doing housework, a cotton top might be enough but when you stop moving around be sure to add another layer.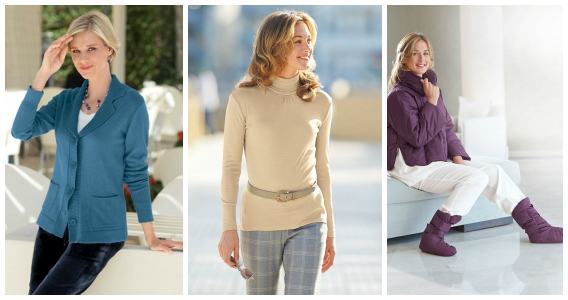 (Left) This cardigan is flattering and practical in a lovely blend of silk, cotton and cashmere; (Center) A silk polo neck makes a perfect wardrobe basic, and in a wide range of fashionable colours, you can layer it with ease; (Right) A cosy, padded layer of feather insulation in our duckdown bed jackets and booties traps the air and keeping you toasty warm while watching TV or sitting up in bed.
Sleep tight
It can be difficult to get a restful night's sleep when it's cold. You might feel too chilly when you first get into bed, and then too hot during the night if you've put extra layers on. When you're in bed you can stay blissfully warm without overheating in pure silk pyjamas. Silk is famous for its temperature regulating properties – as long as you're warm when you put them on, you'll stay at that temperate all night long.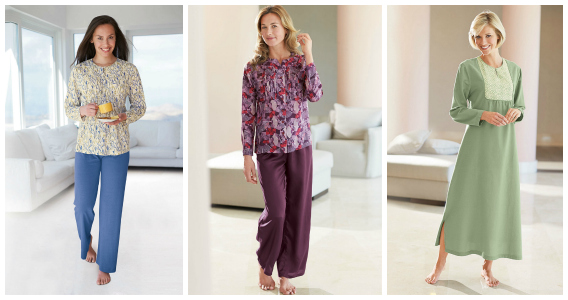 (Left) Cotton-Cashmere easy fit pyjamas are a soft and cosy sleepwear essential; (Center) Our new floral print makes these pure silk PJs extra special; (Right) Pure soft brushed cotton nightdress for all night comfort
Be wise to fuel bills
To save on fuel bills, keep the heating on all day only in the rooms you use most often, like the kitchen and living room, and turn the radiators right down in spare bedrooms and the dining room.
Likewise with your bedroom – turn the radiator up slightly a couple of hours before bed and down again in the morning.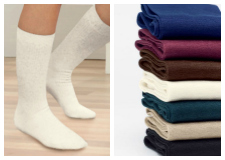 Homes lose a lot of their warmth through windows so pulling those curtains closed early is small money saver as is blocking those annoying front door drafts. Keep internal doors closed whenever possible to trap the heat, and as you can lose a lot of heat through your feet, especially on cold floors, wear some cosy socks, slippers or our supper snug duck down booties.
(Left) Our silk socks are smooth and comfortable, and keep you cosy around the house; (Right) Our pure silk long socks are particularly recommended for people who suffer with poor circulation
Go for a walk
Keep active, it's too easy to snuggle-up and sit down for long periods. Simply moving around the house or, if you are feeling particularly energetic, some light exercise doing those ever present house hold chores, will help you keep warm.
If the weather outside shows promise, don't hide indoors. Wrap up warm in silk base layers and keep your body's heat close to your skin. Even just a 10 minute walk will brush the cobwebs away, get your circulation going and improve your fitness too!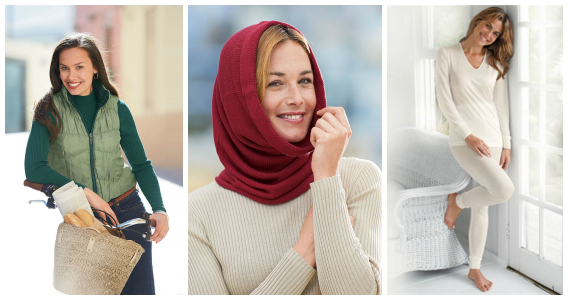 (Left) A silk gilet makes a great between-seasons layer over a warm jumper; (Center) Our silk cowl is a stylish alternative to a hat, and just as warm; (Right) Pure silk vests and leggings are perfect for walking outdoors