Declutter your wardrobe and stay stylish in natural fabrics
Do you ever have the feeling that you've got too many clothes yet nothing to wear? If so, it's time to streamline your wardrobe.
Using versatile key pieces in natural fabrics, such as pure silk and soft lambs wool, you will be able to go from day to evening without batting an eyelid.
If something is ill-fitting, unworn or simply unloved, then t   hey're just gathering dust and need to go. Replace them with some of our essential classics and you'll have a wardrobe that is streamlined, stylish and versatile.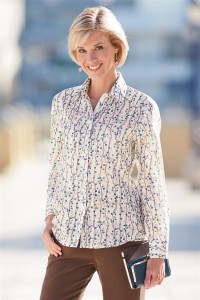 The perfect pure silk shirt
Feel cool, comfortable and confident in this gorgeous classic. Our pure silk shirt always looks great and feels amazing against the skin. These new botanical prints in autumnal shades are perfect for this time of year. It can be worn with a skirt for a special occasion or pair it with jeans or trousers for a more casual look.
Pure Silk Shirt in Champagne (SHPB)
Cosy up in this warm yet breathable reversible silk gilet. Its contoured design makes it flattering and fashionable. Another truly versatile piece is our reversible jacket. It's lightweight yet warm. Beautifully finished with a mandarin collar, it makes a smart alternative to a cardigan or coat.
Reversible silk gilet in Nettle / Herb (RYSG)
Our pure lambswool jacket and skirt are hand crafted, timeless classics which can be dressed up or down. The jacket is soft, smart and comfortable. It will add class to casual trousers and looks great with a floral skirt. The sophisticated cut of this pure lambswool skirt makes it ideal for a lunch in country or teamed with heels and a cami for an evening out.
Lambswool Jacket (WJ)  and skirt (LWS) in Cranberry
You'll need something in your wardrobe for when things turn a little cooler. This pure Merino wool waterfall wrap is the final word in sumptuous comfort. Drape it over one of our silk shirts to stay cosy and still retain that classic, sophisticated look. It's super soft and super breathable.
Merino wool waterfall wrap in Caramel (MRWC)
A pure silk camisole like this will keep you feeling cool and looking stunning. Under woolens, its delicate fabric feels incredible against your skin. Dress it up with a jacket and statement necklace for a look that's both feminine and chic.
Luxurious shoe-string Camisole in black (CCM)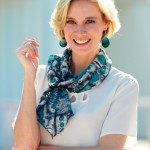 Don't forget to accessorise
A scarf, be it pure cotton or elegant silk, can transform your wardrobe and add that extra touch a class to any outfit. Try mixing and matching textures and tones. Adding a belt to a dress, skirt or trousers can instantly change the look of an outfit, greatly increasing the number of looks your capsule wardrobe can provide. This handmade leather belt comes in all the latest seasonal shades to compliment your look.
It's so easy to immediately update your wardrobe with these fantastic all-natural key pieces. Take the plunge, declutter that bulging wardrobe and create the streamlined closet you deserve.
The Autumn 2013 collection is out now – why not sign up for our newsletter or join us on Facebook to find out more.