Why do you need transitional clothing?
September is a tricky time of year. It's important to get your clothing right, or a sunny stroll in the park could leave you drenched and windswept in a matter of minutes.
The weather is particularly unpredictable in the UK at this time of year, and the last few years have seen warm, dry weather well into September. On the other hand, we've had torrential downpours and flooding in much of the country at this time of year too.
If you struggle with choosing an outfit at this time of year, you probably resort to layering as your staple transition tactic, but it's easy to get it wrong.
Here's the key to getting transition clothing right:
> Keep it simple, don't over-layer and make your outfit fussy. A silk scarf provides a nod to the changing season, while a good quality cardigan will keep you warm if the weather turns.
> Introduce Autumn colours gradually to your Summer outfits. Signature earthy hues and Autumn prints on your top or bottom update the look.
> Switch to a larger bag – a beach bag is good for keeping Summer style, while being big enough to carry a cardi or pair of opaque tights.
> Pick the right fabrics – Cotton and linen are cool and lightweight, silk comes in different weights and knits and is ideal from both warm and cooler weather, and a sprinkling of cashmere or wool is cosy on chilly days.
Why Patra's Autumn collection is the ideal transition wardrobe
All the clothing in our new collections are designed to complement each other, so you can mix and match items from the range with ease. Always in comfortable, natural fabrics that are breathable and handle the changes in climate brilliantly.
Our beautiful Autumn colour palette is inspired by nature, with tones taken from berries and foliage, and with exclusive botanical prints that help you move seamlessly from Summer to Winter.
Our personal favourites for your transition wardrobe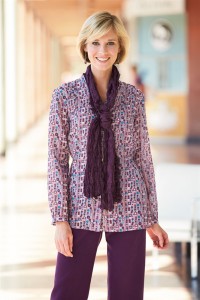 New from our Autumn collection, we think this soft silk-cotton blouse is great for this time of year – it's breathable but gives you that touch of warmth.
In a linear geometric print that shows off our new colour palette to its best, you can mix and match with our collection of silk trousers and scarfs. Airy and gossamer light but with long sleeves and a longer tunic style length keeps you covered.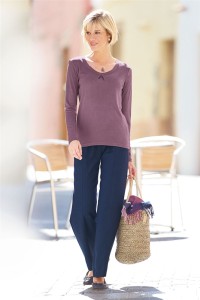 Team smart Noil Silk trousers with a basic pure silk top for breathable warmth. These trousers are a really popular choice: smooth, comfortable and loosely cut with a soft pull on waist, they are ideal for transitioning from warm weather to cooler.
The top is in knitted silk jersey to gently skim your body, and comes in lovely Autumn shades of Dewberry and Herb – and Black, of course! And don't forget that silk keeps you at an even temperature all through the day – much nicer than synthetic materials.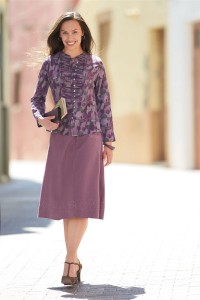 In our gorgeous Forest print this shirt is in an easy-care crinkle cotton, which makes it warmer than normal with a soft finish. A military style front piece adds interest and something a bit different. The long sleeves, high collar and earthy tones make it a great piece for Autumn, but in a light and fresh fabric.
You don't need to be nervous about the unpredictable weather in these great pieces from the Autumn collection. Mix and match our knits with other pieces from the catalogue or your Summer clothes to smooth that transition and don't be caught out with the wrong outfit again.