Benno Rawlinson rowed 3000 miles in our silk pants. Here's his story.
Back in January, we were delighted to announce our support for Benno Rawlinson on his gruelling 3000-mile Atlantic rowing challenge. He and the crew of Avalon set off for a month-long journey of high winds, low temperatures and a punishing rowing schedule.
Avalon and her crew achieved the sixth fastest Atlantic crossing ever, and sadly unable to break the world record this time. Bad luck with weather, currents and a broken dagger board meant the team fell a few days short of their target, arriving in Barbados 35 days and 12 hours after leaving Gran Canaria.
We talked to Benno about the highs and lows of his exciting, arduous trip.
Patra: You survived! And so close to breaking the World Record – but what happened?
Benno: "Thanks! The expedition went very well; unfortunately our luck with the weather and currents was not on our side this time – we were hampered by currents going against us. This wasn't helped by our dagger board, which provides the boat's stability, broke a couple of weeks into the journey followed not long afterwards by our auto steering. So we ended up having to have a person steering the boat rather than rowing. So although we didn't break the world record, we were the sixth fastest crossing ever, and we finished safely and all in one piece excluding the odd blister or so."
It sounds very tough. Was it mentally challenging as well as physically hard?
"Yes. We had so many challenges with the weather and the boat, but the biggest challenge we all faced was the mental one that we had to overcome. Despite often being very tired and sore we had to get back on the oars again to row for another 2 hours after a 2 hour break and then repeat all day and night. However counting down the number of clean pairs of underwear I had certainly gave me a boost as we got ever closer to the finish. All in all though it was a very enjoyable trip and certainly a life experience I will never forget."
So were our silk briefs a welcome addition to your rowing kit?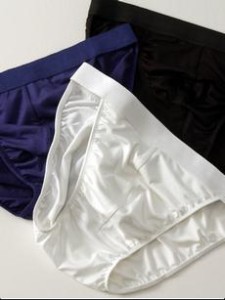 "Absolutely. I thought the silk briefs were fantastic as they were very lightweight, comfortable and yet incredibly tough to cope with everything that was thrown at them whilst rowing across the Atlantic. What was particularly important was that they didn't soak up too much water like their cotton counterparts, dried quickly and regardless of the temperature day or night they kept me comfortable. If I were doing another expedition I would certainly take silk base layers again, but next time I would take a selection of styles to provide some variety on the body in terms of fit and where the seams lie."
Apart from our pants (obviously!) what was the absolutely highlight?
"The highlight of the trip was certainly seeing a pod of around 30 – 40 dolphins swimming alongside our boat and doing flips in the air. You could also hear them singing through the hull of the boat as we tried to sleep."
Read more about the trip
The crew were taking on the challenge of rowing across the Atlantic Ocean, from Gran Canaria to Barbados, in under 30 days. We sent Benno three pairs of silk mix briefs to help him on his way, as silk is ideal for rowers and other sports, its fine knit wicking away sweat and protecting the skin from chafing and irritation.
This video from their Sea Trials last year gives you some idea of the harsh conditions they faced on their journey.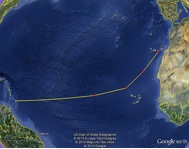 The Avalon's route from Gran Canaria to Barbados. The crew failed to beat the sub 30-day barrier, but did achieve the sixth fastest crossing ever!