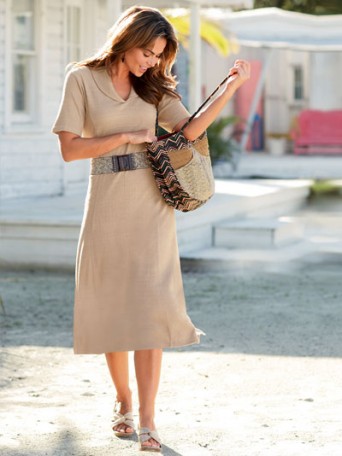 With summer coming up, Patra has designed a range of new dresses, which build on customer favourites to ensure your summer is spent in clothing which is both stylish and comfortable. One such summer dress featured in the new catalogue is the Noil Silk Short Sleeve Knitted Dress (see image to the left), based on the popular Noil Silk Roll Collar Blouse and which is available in raspberry and champagne.
Rita Patra, Managing Director of the online and mail order silk clothing retailer, says of the new dress, "Our Noil Silk Roll Collar Blouse is really comfortable and good for the beach, as well as being smart. So we decided to turn it into a simple knitted dress, shaped so our customers could wear something easy-fitting and comfortable at the beach, or look utterly stylish by adding accessories."
The Silk Short Sleeve Knitted Dress is made of Noil silk which hardly creases, which makes it perfect for travelling. Another new addition to the Summer collection is the elegant Silk Jersey Short Sleeve Dress, which comes with a charming sweetheart neckline and in a flattering cut. "Because it's made of knitted silk," Rita comments, "It's also very comfortable. So not only is it ideal to wear on smarter occasions, but it's also an item our customers will enjoy wearing for the sheer comfort it brings."
Silk is an ideal fabric to wear in the summer, as it is fine and breathable, and adjusts to body temperature. Its ability to wick away moisture means wearers never feel too hot or uncomfortable in their clothing. The new Summer catalogue also features dresses made of cotton and linen mixes, as well as a range of tops, trousers and nightwear, amongst other items.
The Summer 2010 collection of silk clothing can be seen at www.patra.com.