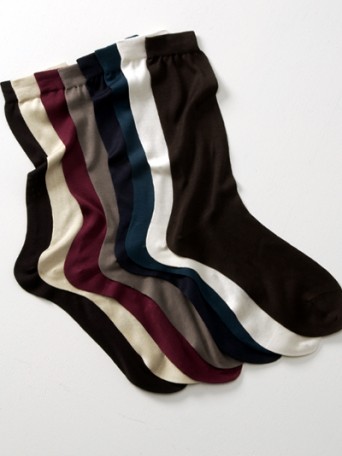 Reynaud's Phenomenon is a painful condition often triggered by the cold, which affects fingers, toes and other extremities, and is thought to affect around 10 million people in the UK.
In Reynaud's Disease or Reynaud's Phenomenon, the arteries in the extremities go into spasm, turning fingers and toes bluish white, making them stiff and painful. Secondary Reynaud's is associated with an underlying disease.
Sufferers of Reynaud's look to ways to improve circulation, and are recommended to eat regularly, especially hot drinks and meals, and take exercise, and should wear warm clothing to protect them from the cold.
International silk clothing retailer, Patra Silk, gets many requests from Reynaud's sufferers for lightweight, but very warm, silk base layers, silk gloves and silk socks, as extra layers in the coldest weather, and as a good option for the transition to warmer months.
Silk is renowned for its temperature regularly properties. But Managing Director, Rita Patra, warns, "Silk glove liners and silk socks are excellent at keeping hands and feet warm, and we regularly supply skiers, mountaineers and trekkers, but because they are temperature-regulating, you must make sure to put them on when you're warm, so you'll stay warm. If you put your silk gloves on when you're outside and starting to get cold fingers, they'll stay cold!"
Unlike bulky woollen socks or gloves, silk socks and gloves are very thin and lightweight, and fit snugly against the skin, which makes them a popular choice for layering under mittens or thicker socks in very cold weather. For this same reason, they take the wearer through the spring, when other people no longer need to wrap up warm, those with Reynaud's often need to continue to wear their gloves and warmer socks through the spring months, feeling the cold more acutely. Silk gloves and socks are thin and discreet, and so are very popular with Reynaud's sufferers.