How to stay comfortable and enjoy temperamentally spring weather in style
They say that April showers bring May flowers, but it's never fun when it starts to pour down in the middle of a stroll or picnic! Hairstyles get ruined, shoes become wet and we end up soaked and feeling uncomfortable. On day like these, we're often faced with the dilemma of what to wear, so we are here once more to save the day by giving you some outfit inspiration to get you ready for when the inevitable happens! So, get your most breathable and cool clothing out and don't let this pesky, rainy weather put a damper on your mood!
Lightweight Parka
Let's start with outerwear that will keep you dry before moving on to those easy-to-layer separates. A waterproof jacket is the be-all and end-all of rainy weather appropriate clothing. Our pure Tencel parka ticks all the boxes, in terms of both style and function. Made from eco-friendly Tencel, this parka offers an effective and comfortable solution for what to wear on mild yet rainy days. The waterproof material repels water easily and quickly but allows your skin to breathe, without feeling overwhelmed by perspiration. A high-performance parka for all your daily excursions. Not only that, it has pockets too!
Cotton reversible jacket
For a somewhat dressier option, our pure cotton reversible jacket is the way to go! It might not be waterproof, but it sure has style in abundance! It works perfectly as a light layer and keeps you warm and protected, no matter the weather. Cotton offers maximum wearability and this one is a modern interpretation of the classic jacket, expertly crafted to last a lifetime. Wear it with a monochrome outfit and make this reversible jacket the focal point and the pop of colour you desire. You really can't go wrong, plus with a reversible design, you'll have two jackets in one.
Now, it's time for outfit inspiration! We prefer trousers, jeans, simple cotton ones, doesn't matter, as they cover our legs better, so there is no chance of getting uncomfortably wet. The idea is to have hassle-free clothing and comfortable separates that won't clash with your other accessories. So, let's move on!
Elevate your casuals
We love this combination of a cotton knit top with denim jeans for April showers. A lightweight cotton knit can match well with a parka, especially if it's windy and cold, by giving you extra warmth. Colour-wise the whole outfit – paired with our parka – is built on shades of blue, so you can switch up the look with a pair of short rain boots in another colour or a neutral and your trusty umbrella. Our denim jeans will also provide warmth and, since they are straight-cut, there's no danger of the hems getting soggy!
Relaxed style
These pure cotton printed trousers are among our favourites this season, as they are the epitome of style. Light enough, you can wear them during April showers, as they dry easily; just pair them with your favourite trainers that let your feet breathe and you are ready to go! Our bamboo tops are fantastic basics because they are utterly soft, moisture-absorbent and offer a pop of colour to any outfit.
Comfortable lightweight layers
Treggings and a bright top for rainy days? Sign us up! This outfit is ideal for cloudy (and rainy) days. Our feather-soft cotton tops dry quickly, while cotton treggings are flexible and their hem rolls up easily, in case of sudden rain. Paired with a light cotton cardigan that can fit effortlessly under a jacket or parka, so you can ace spring layering. Injecting colour does wonders for your mood, come rain or shine!
Last but not least: An umbrella!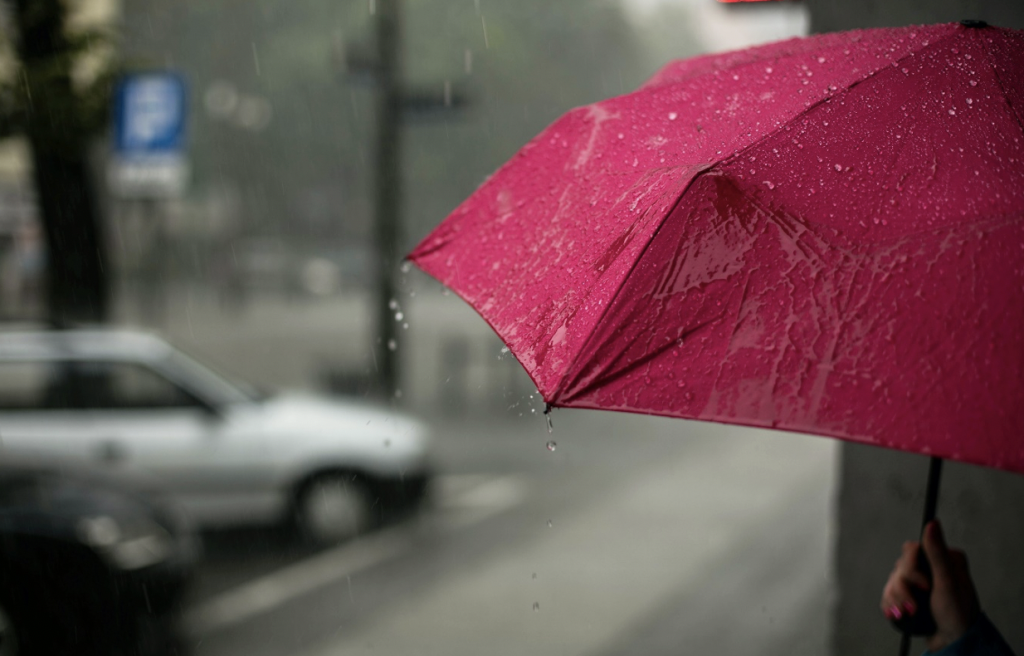 While we tend to think of umbrellas as an April showers essential, you can also make a fashion statement with them! Just pick a colourful one that can go with everything you have and a tote bag big enough to fit your umbrella in. If you don't feel like carrying a classic walking or a bubble umbrella, you can choose a compact one that is much smaller and takes up practically no space at all.
From outerwear to bright and cheery separates, we believe that, despite the inconvenience, April showers are a nice opportunity to show off your style. We love quick-drying and breathable cotton and moisture-absorbent Tencel. By investing in these wet weather essentials, you'll have rain-proof clothing all year round!