A little taster of what to expect next season
The new season has hit the catwalks and it's coming at us bigger and better than ever! As times change, we see fashion seasons becoming more and more obsolete – one merges into the other. People focus on other things now – it's not the trendiest colour but the more sustainable source, the better finishing that will last.
After seeing next season's collections there was one thing that became clear straight away – the age of Athleisure is over, usurped by a more sophisticated and an overall dressier look. Today's woman is very much inspired by the past – back when the choice was quality over quantity and people put more effort into their outfits.
The approach this season was an interesting clash between minimalism and excess. We saw a lot of grown up looks with a multitude of tailored styles, below-the-knee skirts and buttoned up shirts – all very classy. On the other hand we witnessed the rise of the BDE (Big dress energy). Exaggerated, over-the-top dresses were showcased down the runway in boulders of taffeta, tulle and organza which perfectly contrasted the sober, monotone suits.
Colour clash
When it comes to colour expectations for AW19 we would split it into two categories – the minimal and the electric.
Beautiful beige and sober greys are the next 'cool girl' colours. Minimal, graceful and classic shades of Beige, Taupe, Toffee, Charcoal and Ash brought softness and style to beautifully tailored pieces. These neutral shades appeal to those of us looking for simpler pieces to add to our wardrobe. The desire for sustainable living has also pursued people to look for more calming and easy, natural-looking tones.
Colour crush – all bold and bright from head to toe! Many a designers went for a shocking colour palette, unusual for the fall season. Some seasons we see a dominating pop colour that shines amongst the overall somber palettes associated with the season. This year it's all out there – Yoke Yellow, Emerald, Cobalt, Hot Pink and Tomato Red to name a few. Designers such as Max Mara, that usually bet on Camel, Black and Cream led the charge with all-over looks in bold shades. Amongst the colour pioneers were Dolce and Gabanna, Armani and Balenciaga.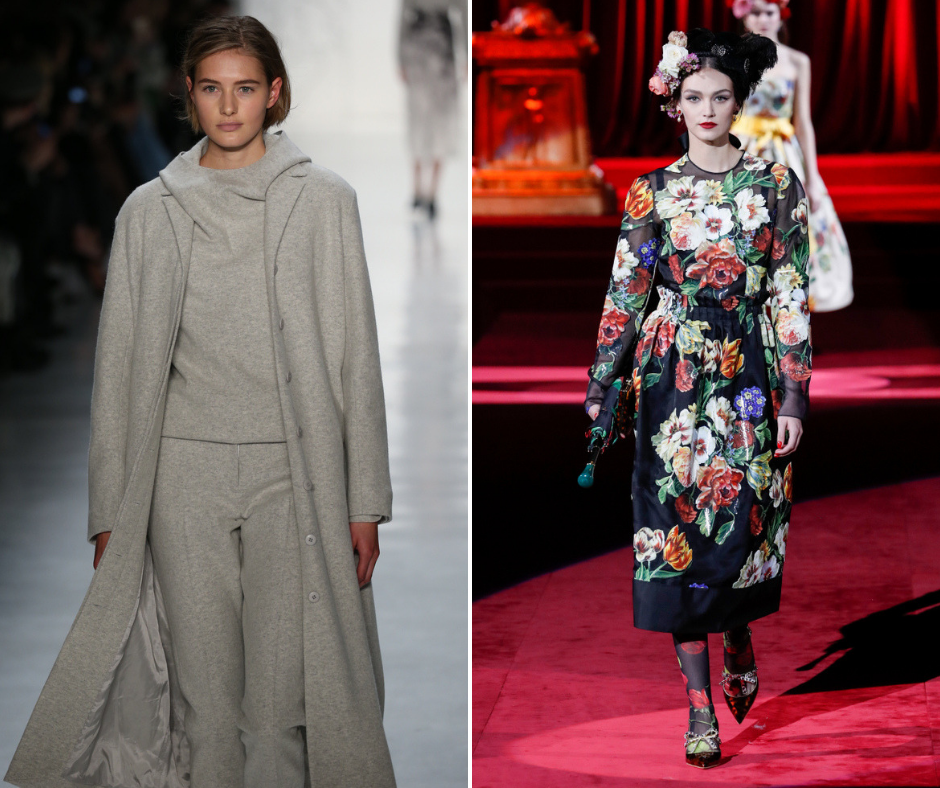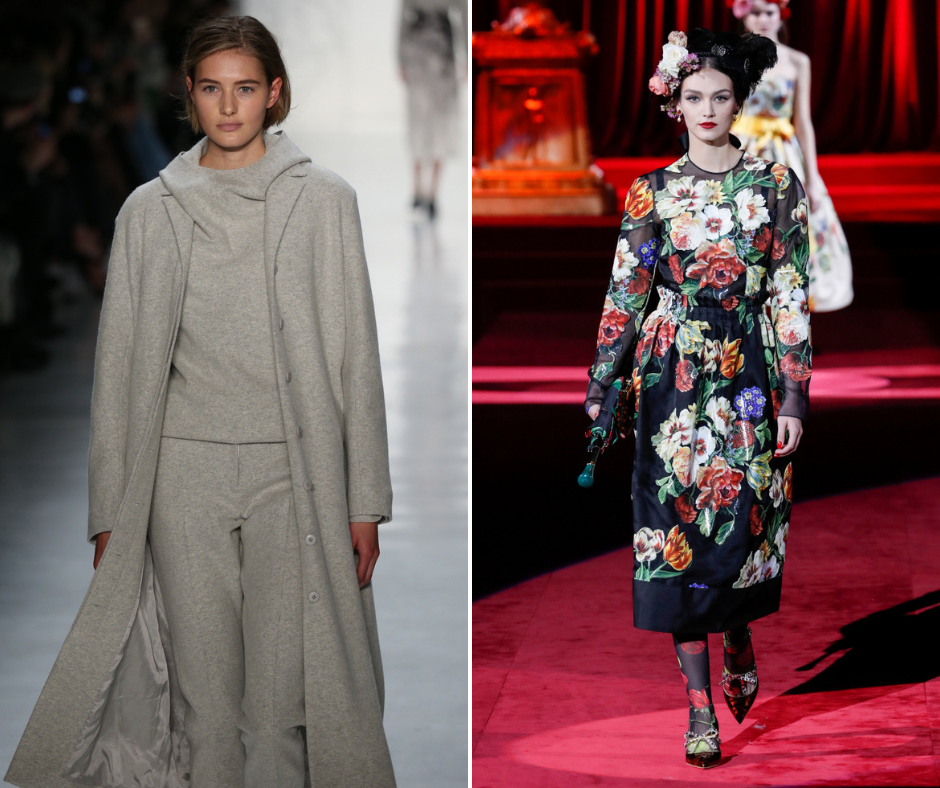 ­­­
Prints to pursue
The prints for next season definitely took a more romantic turn with big floral designs and dramatic rose prints. Large scale floral patterns dominated the catwalks with designers such as Prada and Richard Quinn giving roses pride of place. From beautiful vintage designs in pretty pastels to dramatic dark bases with large, digitally printed roses in pop colous.
The Animal print is still going to be one of the dominating trends out there with sales rising dramatically in the past few seasons – we're nowhere near getting rid of it. And why should we – it has been given a new life. Leopard and zebra prints are taking over next season's knitwear, dresses, tops and accessories.
DRESS it up!
Apart from the fabulous Big Energy Dresses full of life and colour we also saw a dress trend that will please the trouser lovers out there. Dress over trousers is the new cool look! Sleeveless or in a pretty print, cinched at the waist and paired with a well-cut, wide leg trouser – stunning! JW Anderson did it just right – beautifully classy and sleek followed by Molly Goddard, who took a more feminine approach.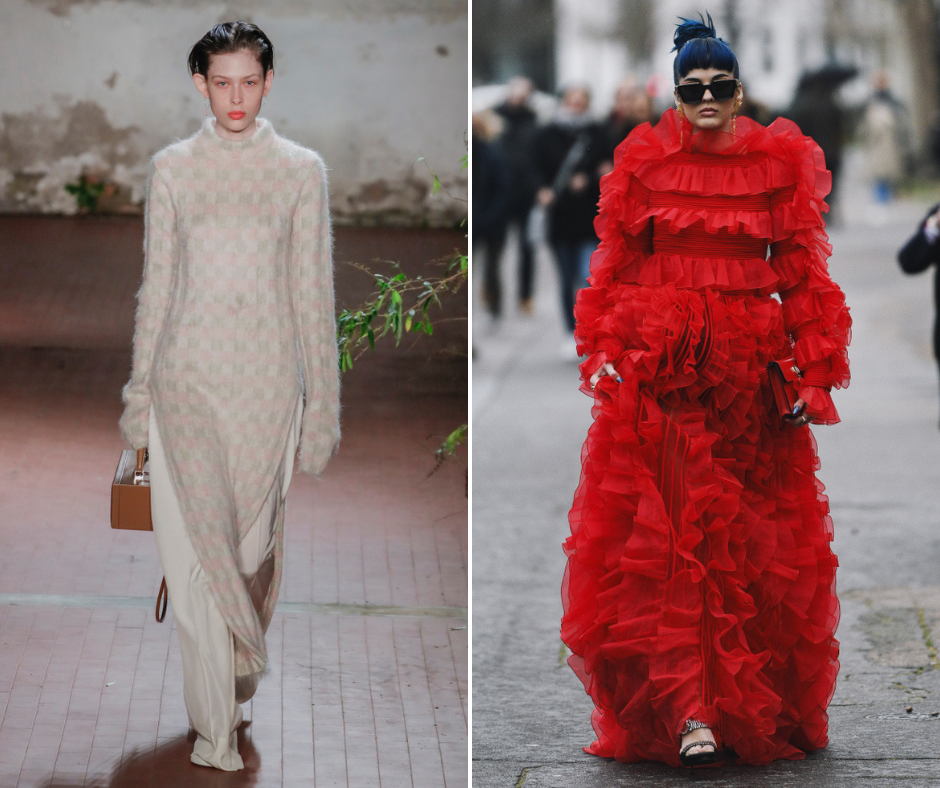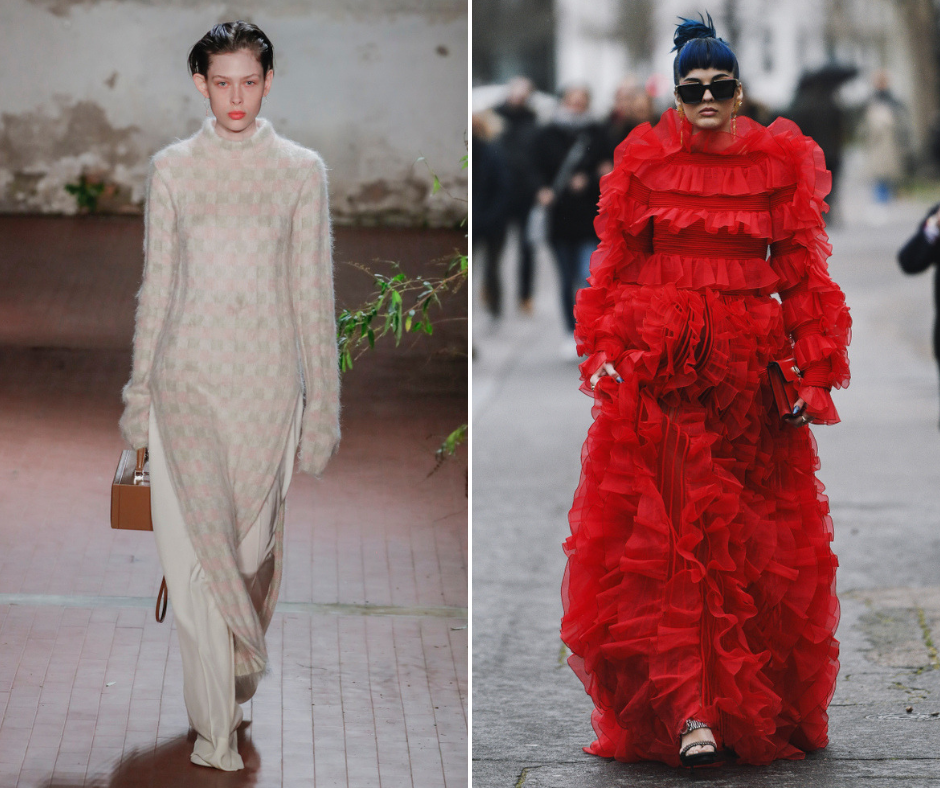 Silhouettes and fabrics
Velvet isn't going anywhere for AW19. This beautiful fabric screams luxury and we were not surprised to see it featured in the collections of Oscar de La Renta, Tom Ford and Alexa Chung. Slip dresses or jumpsuits, it is also a gorgeous fabric to give a tailored suit an oomph.
Some classic styles never go away, only get better with time. The AW19 catwalk showcased many a beautifully tailored trench coats. This classic style had been given a makeover and was featured in Simone Rocha's show in beautifully translucent gauze that gave her looks a feminine and romantic feel. We cannot talk about trench coats without mentioning Burberry – from the famous classics to the updated versions featuring contrast piping and colour. Apart from the grown-up trench, big puffer jackets, aka power puffer, were seen in the shows of Christopher Kane and Burberry – cosy, long and voluminous.
The argyle knit pattern is on the rise again – a design that used to be reserved for Grandad's jumper is now featured in the fashion shows of Victoria Beckham and Preen. It looks like we will be seeing a lot of the diamond pattern next winter.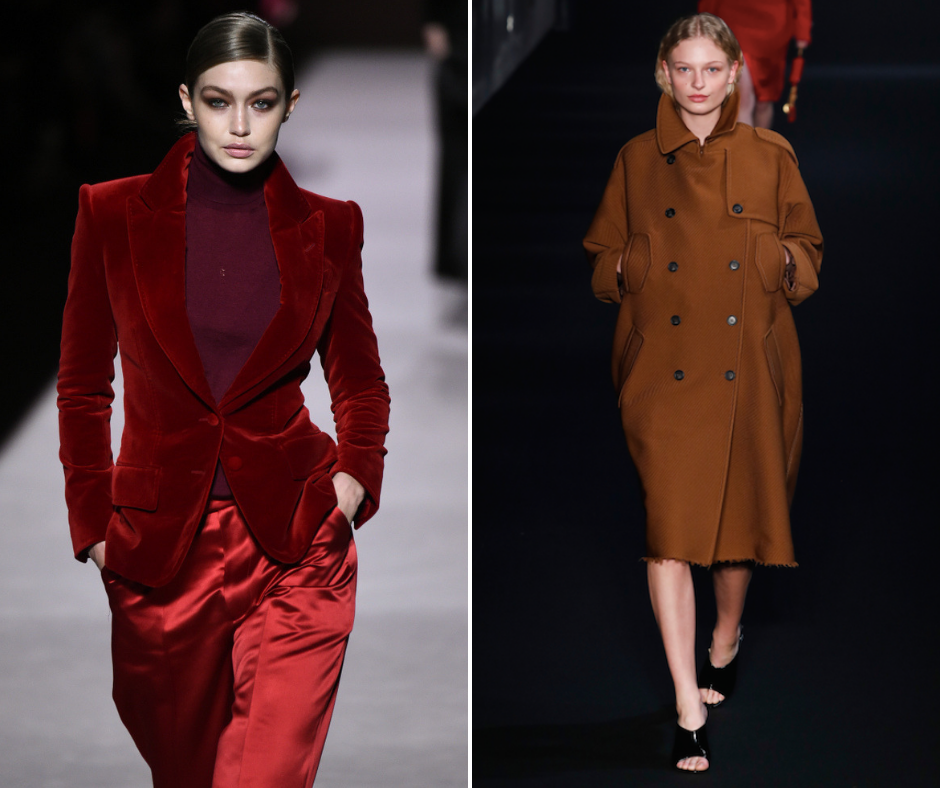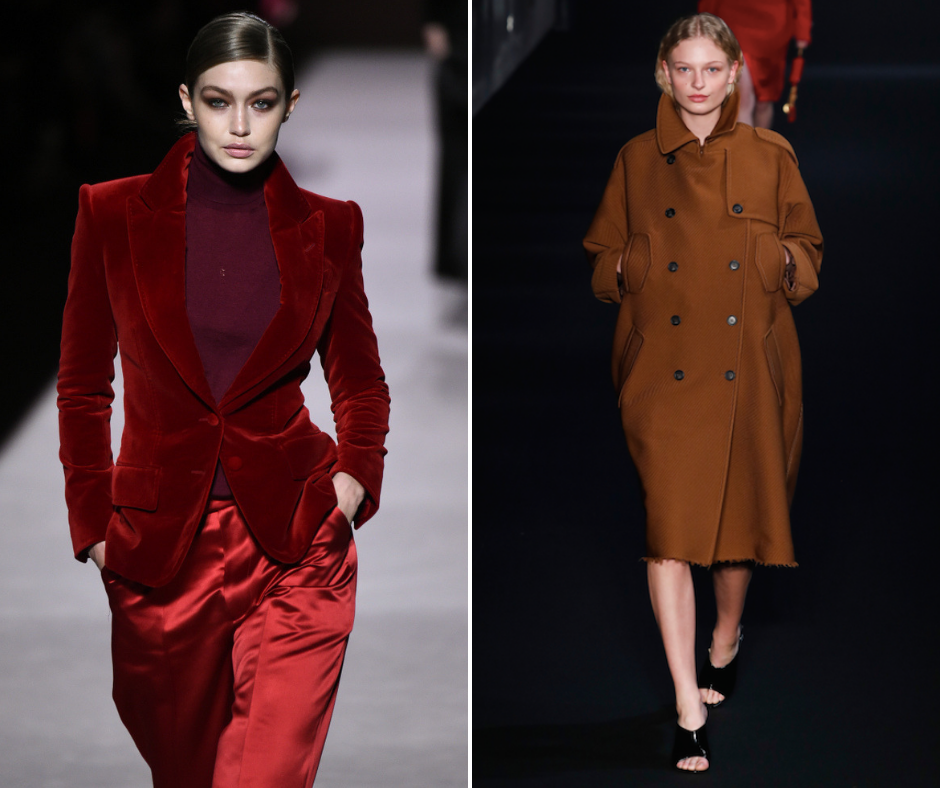 Looking forward to the season ahead
Fashion designers took a more grown-up and sophisticated approach for AW19 and this is something we could relate to at Patra. The shows were beautiful and inspirational, and we had a lot of fun designing our own range. We look forward to showing you Patra's new AW19 collection next month so watch this space to discover the exciting new range we've got lined up!
Editorial credits:
Header image:
Milan Fashion Week Autumn/Winter 2019/20 – FashionStock.com / Shutterstock.com
Colour Clash images:
New York Fashion Week -FashionStock.com / Shutterstock.com, Milan Fashion Week Autumn/Winter 2019/20 – FashionStock.com / Shutterstock.com
Dress it up images:
Jil Sander show at Milan Fashion Week Autumn/Winter 2019/20 – FashionStock.com / Shutterstock.com,
Dolce and Gabbana show at Milan Fashion Week Autumn/Winter 2019/20 – FashionStock.com / Shutterstock.com,
Silhouettes and fabrics images:
Tom Ford during New York Fashion Week – davecsmith / Shutterstock.com,
Fall/Winter 2019-2020 fashion show during Milan Fashion Week – FashionStock.com / Shutterstock.com