Cotton, silk and cashmere knits for a wonderfully warm winter wardrobe
Our silk, cotton and cashmere items are central to this year's Autumn/Winter Collection. Whether you want something to cosy up in or an item to make a fashion statement, Patra knitwear is here to tempt you yet again with its unbeatable quality. After all, this is the perfect time of the year to invest or add to your winter wardrobe. The variety of knits available is great; jumpers, dresses, tops and cardigans – all made in high quality natural fabrics that offer ultimate comfort at all times. The temperature is dropping and it is time to bundle up!
Cotton Cosiness
Cotton is truly the king of knitwear. So versatile and warm, cotton knits are essential for autumn and winter. At Patra we believe in comfort, so as well as designing items that are easy to match and easy to care for, we've made sure that fabrics are soft and styles are flattering. Cable knit details, roll collars, turtlenecks and polo necks are among our picks of this season's knitwear.
Cotton cable knits are a huge trend this season, and we've brought you two items that are indispensable. Our cotton jumper and cotton dress (another big trend this year) are the essence of comfort! Low-maintenance, breathable and stylish, they are bound to become firm favourites.
Winter means higher necklines; after all, having a warm neck is important. Our pure cotton jumpers, tunics and dresses in rich autumnal colours will be your perfect companion when out and about. You can layer them, wear them on their own, pair them with skirts, jeans or treggings – so many possibilities! A different, but equally stylish alternative, is our cotton knitted turtleneck dress. Wear it with heels and ankle boots or dress it down with a nice pair of brogues, this is a real head-turner!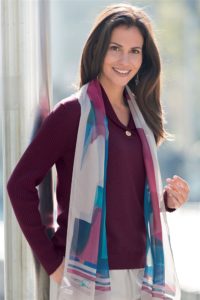 If you don't really go in for high necklines, our roll collar knitted jumper may be just up your street. Hugely popular, it offers versatility and warmth without making you feel too hot. It's great for this interchangeable weather, when it's chilly, but not terribly so. Breathable and non-allergenic, we are so proud of it and of its continued success.
Not a jumper fan? Why not try our cardigans instead! They are a chic cover-up and ideal for the office with a nice shirt underneath. They are the quintessential winter piece, so why not invest in a Patra classic knitted or open front cardigan? Utterly soft and breathable, they are an absolute dream to wear, and keep their shape wonderfully!
Smooth as silk
Our pure silk and silk mix knitted jumpers are perfect for this season. Turtlenecks again and being ribbed, our jumpers are flattering and mould to your body, but they're not clingy. Hypoallergenic and with insulating properties, these silk and silk-mix jumpers are a great investment and the perfect addition to your winter wardrobe. You can style them as you please – we prefer them with necklaces or scarves!
Cashmere luxury
Nothing says winter more clearly than a pure cashmere jumper. Lustrous, soft and smooth, our own is here, just in time for winter. Incredibly cosy, breathable and non-itchy, it's perfect for sensitive skin. Its texture is excellent and can keep its shape, if well-cared for, year after year. Our pure cashmere jumper is a classic investment piece.
Merino wool
Merino wool knitwear is a well-known staple for autumn and winter. Lightweight and breathable, merino wool helps keep you warm when it's cold outside. Ours is luxurious and so soft; it can easily compete with our cashmere jumper. And don't forget that until the end of this month our merino knitwear pieces are on sale, so take advantage of this offer soon!
This is our complete guide for all your knitwear needs. If your woollens are looking tired and bobbly, it's the perfect time for a wardrobe refresh – so you can be fully stocked up on all those soft and cosy layers to keep you covered over the months to come. The combination of incredible prices and quality of the highest tier come together to ensure that our knitwear will be a stylish, attractive and long-lasting choice this autumn and winter.