Our new range is here – packed with gorgeous prints, colour palettes and natural fabrics for the season ahead
We are delighted to introduce our new Autumn/Winter collection. We've taken the best of our classic styles and updated them to combine much-loved favourites with the latest designer trends.
The result is a range of clothing that is contemporary and comfortable. Key pieces that will not only see you through the coming seasons but also items you'll want to wear for years to come.
Colour palette and inspiration

Our Autumn/Winter palette selection has been inspired by the colours seen in nature at this time of the year, as well as reflecting the rich and vibrant tones seen on the catwalks earlier in 2016. Chestnut and nutmeg browns, cool olive and deep blues and of course the natural essential staples such as creams and black.
The new natural – fabrics and styles to layer with
Layering was a top trend on many Autumn/Winter catwalks. Not only is it in style at the moment but it is also an incredibly practical and versatile look. Our new range is full of lightweight pieces in co-ordinating colours that make this trend easy to do at home.
And when it comes to layering, fabric is key – if the fabric is too bulky or synthetic, wearing multiple layers will leave you feeling (and looking) hot and bothered. The new collection features a whole new raft of bamboo-cotton layering pieces. This is a wonderful fabric for this trend; it is natural, hypoallergenic, wicks away moisture and keeps you feeling fresh all day long.
Easy-wear knits – modern looks at everyday style
Our knitwear for the coming season include higher necklines, polos and longer-length pieces. Cosy, warm and textured knits that are soft and beautifully made – in silk, cotton and cashmere mixes.
Necklines were a key feature for knitted designer fashions on many runways – and unusually, for 2016 it was the higher, the better. Our salute to the polo-neck trend comes in different colours and styles. Made from pure and natural fabrics, our knitwear is kind to the skin and soft to the touch.
A fabric taking centre stage in our Autumn/Winter knitwear is soft, cotton melange. Breathable, warm yet never bulky, it is perfectly suited for changeable autumnal weather. And we've used this fabric in another of this seasons top trends – long-line knits. The new range includes tunics that can be worn as sweaters or dresses, cardigans and waistcoats. Available in gorgeous colourways like cream and cranberry, these longer-length knits are easy to wear and incredibly flattering – making them set to be a big hit next season.
We've also used our soft and gentle cotton melange to produce sweaters you'll want to wear everyday. Perfect to layer with and easy to dress up or down. Our roll collar and boat neck jumpers will give any outfit a modern casual style.
Simply stylish dresses
Patra's hallmark is comfort and style – qualities always combined in our chic and wearable dresses. Our range of dresses for Autumn/Winter continues this theme – the new collection has dresses that drape beautifully and flatter – in classic A-line cuts, V-necklines and detailed finishing. Choose from colours from our latest palette and a variety of exclusive prints, these are dresses designed for cooler months that you can easily wear all year long.
Our new pure silk essentials – bright colours and calming neutrals are the trends on the catwalk
Nothing says style more than a pure silk shirt and we have a range of looks for you to choose from this season in our signature matt Fuji silk.
Silk is a fabric that never goes out of style. And the good news is that we've extended our pure silk essential range to include silk gilets, our ever popular silk ribbed turtle necks and interlock silk polos. Seen on the Autumn/Winter runways combined with knitted layers, silk is easy to mix and match with your own wardrobe or something from our new collection.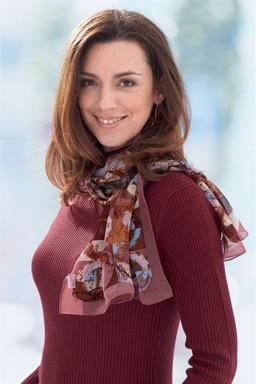 Draping and wrapping
Wrapped styles is also a top designer trend for Autumn/Winter 2016 – with wrap-around dresses and skirts as well as a large array of scarves, ruffles and bows to create a multi-layered look, something Patra's collection help you achieve in an easy and sophisticated way. You could opt to add one of our stunning silk scarfs to update an outfit or our wrap dress give that draped look in one easy-to-wear piece.
Our new Autumn / Winter collection is out now and available on our website – it is the ideal opportunity to have a browse, refresh your wardrobe and get set for cosy autumnal days in gorgeously comfortable and stylish clothing.