Kenyan students and UK volunteers join forces and achieve their goal to reach the top of Kilimanjaro
UK charity, The Red Rubber Ball Foundation took on the challenge of climbing the highest summit in Africa, Mount Kilimanjaro, with a party made up of 11 Kenyan students and 14 young leaders from the UK who had paid their own expenses and raised funds to cover the costs of the Kenyan students. The Kenyan team had all been sponsored through secondary school by the Red Rubber Ball foundation so this adventure promised to be a once in a lifetime opportunity, a great personal challenge and a celebration of their achievements.
Overcoming tough challenges
As expected it proved to be an incredible challenge.  Everyone suffered from altitude sickness as the summit neared – headaches for some, while others were sick.  Walking long distances each day causes fatigue to build up, not helped by disrupted sleep.  And then for the Kenyans especially, there was the cold – a major shock when most had never seen snow or ice before.
Benefiting from exceptional baselayers
And that's where our Patra Silk Thermals came into their own.
Patra Selections provided a silk thermal set for each of the 29 team members. The higher they got, the colder it got and night-time was especially challenging. But wearing the silk baselayers inside their sleeping bags kept them warm and made it possible for the team to sleep and acclimatise to the changing temperature and increasing altitude. This was a huge bonus and it increased their chances to reaching to the top enormously.
On summit night, the team set off at midnight, walking in the dark through the early hours, the coldest part of the day to reach the peak. Kenyan young leader Rose describes reaching the summit:
"After 6 hours of trekking, we arrived at Stella point – 5685m.  I could not believe I had made it to there.  However, there was still another 45 minutes trek to reach the peak.  I was tired, my face, fingers and feet were frozen. I had almost no energy, and as we took a few minutes stop at Stella, I thought of my old father back in the village and his greatest wish – that I could make it to the top and tell him how it is there.  My thoughts gave me courage, and I walked all the way to the roof of Africa.  Tears flowed freely from my eyes when I saw the beautiful sunrise, the amazing nature.  I felt the snow with my walking stick. I could not believe I had made it there".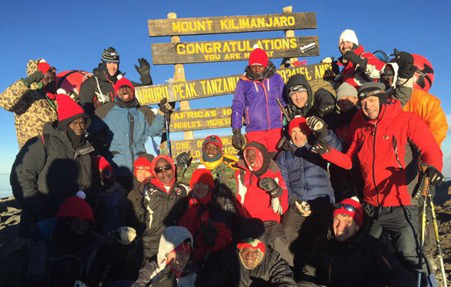 Staying warm and keeping comfortable in sub-zero temperatures
Hayley, who is one of the team of UK volunteers who made it to the summit, was another who loved the challenge and really appreciated her silk thermals.
"I personally think the silks were great and would highly recommend them to anyone who is planning to spend any amount of time in the cold! They were light and comfortable to wear, but very effective at keeping the body warm. I'll be taking them camping! Thank you Patra!"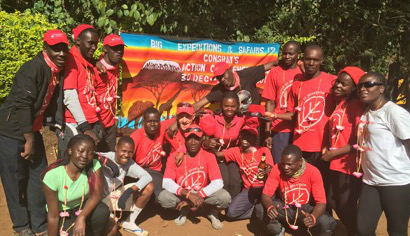 If you are inspired by this story donate and find out more at:
http://www.redrubberball.co.uk/foundation/help-us-do-more/