Stay cool and collected with our go-to guide to
looking

great this summer

From the catwalk to the high street, this summer's style trends are all around us. There's such a variety of patterns, cuts and designs available it can be hard to know where to start. That's why we've put together our take on Summer 2015 – outfits that strike the perfect balance between contemporary fashion and long-lasting classic looks. It's a selection of easy-to-wear, beautifully made and cleverly designed pieces that will keep you cool and fresh this summer.
Mix and Match
Enjoy mixing and matching this summer and get the most out of your favourite pieces. Items like this Pull-on Jersey Skirt can be worn for so many occasions. Add a top, like our Noil Silk Sleeveless one, that comes in a range of five stunning tones – we love cream and paprika, which compliment the skirt perfectly. Then add layers and accessories to suit the occasion – perhaps a jacket and heels for an evening out or pumps and a scarf for a more relaxed look.
Dressing up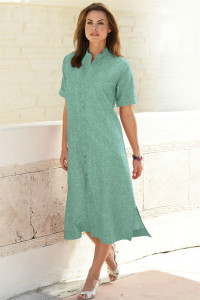 A beautiful dress is a true summer staple. Choose one you feel comfortable in and you'll be bound to come back to it time and time again. Don't compromise on fabric either, cheaper materials can stretch and crease easily. What's more, they don't allow your skin to breathe – vital when the weather gets warmer.
This Patra Dress, made from a yarn dyed cotton-linen mix fabric, gives the dress a unique depth of colour as well as feeling incredibly soft against your skin. Wear it on its own for a clean silhouette or add a belt, scarf or statement necklace to instantly create a new look.
Patterns and Prints
Pull-on patterned trousers are one of this summer's hottest looks, and the best thing about this trend is how comfortable and easy to wear they are – staying fashionable has never been so effortless. And whilst you'll see many around made from cheap fabric in generic prints, ours are exclusive designs made from the softest silks, including luxurious crêpe-de-chine. Available in a wonderful colour palette – from soft Ash Rose to cool Turquoise, these pull-ons have an elasticated waistband and side pockets, making them as practical as they are stylish. They look perfect matched with a relaxed tonal top or something more tailored such as a crisp white shirt.
Check it out
Another easy summer look is the checked shirt, and our take on it is fresh and fun. Look pretty in plaid with this short sleeved Cotton Checked Shirt, in Blue Green or Rose. In comfortable cotton, it looks great with a pair of cute cotton-linen crops or trousers.
Finishing touches
The best thing about these summer looks is the ability to add your own personality to them. One way to do this is with a sophisticated silk scarf. It's an easy way to complete your outfit and a chic solution on a summer evening.
These grown-up looks are outfits for real women, for the real world we live in. We've selected skirts and trousers you can match with comfortable silk tops or shirts, in the best natural fabrics. This means you can benefit from cool breathability on even the hottest days of the year. We can't predict what the summer ahead will have in store but one thing we can guarantee is that with Patra you can get set for a stylish summer ahead.