The stylish world of an indispensible accessory
From ancient Rome to the modern day, the scarf has had an interesting journey. Used to cover, clean and adorn us, it has become an accessory that says a lot about who we are. Instantly adding a splash of colour and glamour, the silk scarf is a perfect finishing touch, one that deserves to worn with pleasure and pride.
History
Scarves first made an appearance during Roman times. Pieces of fabric, called 'sweat clothes', would be tied around the neck and used to wipe away moisture; the first warriors of the first emperor of China would wear scarves to indicate their station. The vast terracotta army illustrates this with many of the soldier statues wearing small neck scarves.
Other armies throughout the ages copied this principle. In Croatia, around the 17th century, low ranking soldiers would wear cotton scarves whilst the officers wore silk. During the First World War the aviator scarf became an essential piece of kit for many pilots.
War would also impact women's wearing of scarves. In the 30s and 40s scarves usually came in muted tones and reflected the economy, made from cotton, linen or sometimes the newly invented Rayon. During the Second World War wearing a scarf served a very practical purpose for many women working in munitions and other factories: covering your hair with a scarf prevented it getting caught up in the machinery.
The more buoyant mood of the 1950s was reflected in the fashion for brighter scarves. During the 70s and 80s scarves became bold, brash and fun – with large geometric shapes and fashion houses like Chanel emblazing silk scarves with their iconic logo.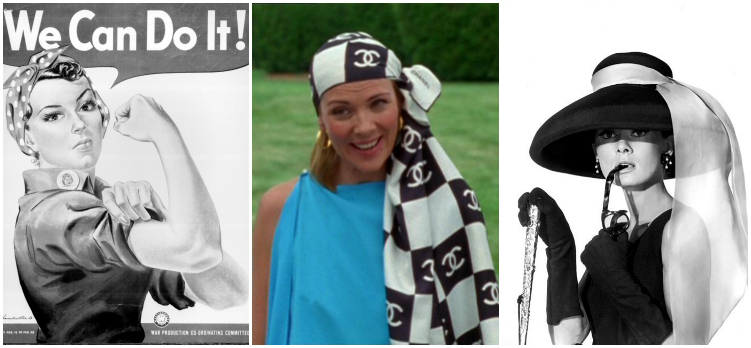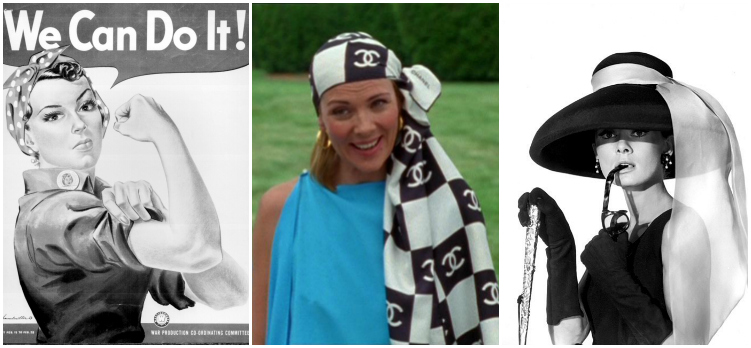 The scarf's golden era
The mid-20th century was a wonderful time for scarves. Glamorous stars such as Audrey Hepburn would wear them when traveling in a convertible or just to add a touch of 'je ne se quoi' to a look. It was an era when the scarf was a truly aspiration style accessory – one that suggested wealth and class.
Types of scarves
Today scarves come in all shapes and sizes. Versatile fun and no longer a luxury piece, there's something to suit all tastes.
Rectangular and square scarves are probably the most common. Available in different dimension these can be draped or tied in a variety of manners. Plain or printed, they not only can colour to your outfit but also act as a great cover-up.
Originating from the cowboys of the West, the bandana is a smaller scarf that can be tied around the neck or head. Although they began life for practical reasons – to protect from the sun and mop your brow, they are now commonly worn as a fashion statement.
Modern additions to the scarf family include the Infinity scarf and Skynny scarf. The former is a long rectangular scarf sewn together to form a continuous loop. The later is a thin scarf, similar to a man's necktie.
How to wear your scarf
Once you've selected your shape, style and fabric, the final scarf decision you need to make is how to tie it. You may be surprised to learn that there's more than one way to do it – from the Classic Loop to the Drape and Knot, there are many ways to get wrapped up. Weather you opt for keeping things simple or trying something new, our useful infographic on how to wear a scarf can be really handy.
An indispensible accessory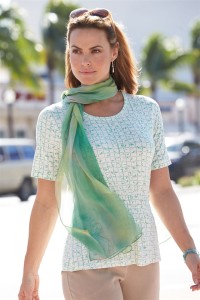 Mirroring cultural and social changes as well as optimising an era of iconic elegance, the scarf is like a piece of wearable art, reflecting your style and personality.
But you really don't need to take them too seriously. Audrey Hepburn once said, 'When I wear a silk scarf I feel so definitely like a woman, a beautiful woman'. Bright and fun or simple and understated; they do seem to have an ability to transform an outfit, allowing you add a unique little touch of self expression to any outfit.
If this has inspired you, browse our wide collection of stunning scarves.