A story of style: exploring the history of dresses and our love of frocks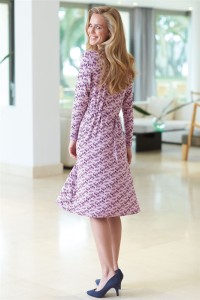 Dresses – from christenings and weddings, to dancing until dawn – we all have ones that we have worn and loved and that hold many treasured memories. Perhaps they no longer fit but having them in your wardrobe never fails to bring a smile to your face. But what is it about dresses that make them so special? When did we start wearing them and who wore the most memorable ones? We look into our love affair with the dress and highlight some gorgeous gowns from years gone by.
The history of the dress
Early evolution of the dress happened all around the world; Greek Togas, Indian Saris, the Javanese Sarong and the Scottish kilt. These were often simple uncut sheets, pinned into place and worn by men and women.
It was probably during the 16th and 17th centuries that dresses as we know them, cut and sewn to fit the figure, became popular. The vibrant Renaissance courts were a constant whirlwind of dinners, dancing and festivities. This artistic environment was ideal for ladies to display their style and wealth, by wearing the finest fabrics they could afford.
During the 18th century, stays were added to bodices to create a corset and hoops to the skirts to make their dresses fan out. The fashion for corsets grew throughout the 19th century – women's waists got smaller, décolletage more prominent, and breathing a little trickier!
Dresses in the 20th century
The biggest change in dresses for decades happened in the 1920s when women started to wear knee-length skirts. This fashion continued until the end of WW2, when skirts and dresses had to be more practical and fabric was rationed.
Another dress milestone occurred in 1965 when Mary Quant invented the mini skirt and its partner in crime, the mini dress. The rest of the 20th century saw dress lengths rise and fall. With designers such as Vivienne Westwood looking back to the romantic era, Lacroix channelling gypsy flair and Miyake his East Asian roots – anything seemed to go and dresses came in all shapes and sizes.
The best dressed
There is a dress so famous it's earned the title of 'most famous little black dress of all time'. The long sleeveless black dress, designed by Hubert de Givenchy, shot into the limelight with the release of the 1961 classic – Breakfast at Tiffany's. Described as 'ultra-feminine' and 'Parisian' it is a timelessly beautiful gown.
Another legendary dress was the one worn by Marilyn Monroe in the 1955 film The Seven Year Itch. This unforgettable ivory cocktail dress, with its halter neck, plunging neckline and pleated skirt opitimised the screen siren's flirty style.
Princess Diana is famous for her elegance and impeccable taste. Although hard to pick just one from her many stunning outfits, this gown, worn at the White House reception in 1985, seems exemplary. The midnight blue off-the-shoulder velvet gown made the princess the belle of the ball.
And at the opposite end of the sophisticated spectrum is Geri Halliwell's Union Jack dress. In 1997, The Spice Girls were at the peak of their pop career and Geri's dress seemed to take on life of it's own. Unbelievably, the dress was made from an old tea towel, which Halliwell's sister had sewn onto the front of the Gucci dress she was supposed to wear.
The long and short of it
Today there are a wide variety of dresses available, from long flowing maxis to the classic A-lines, there's something for every occasion.
And at Patra we recognise the importance of combining current trends with styles that fit well and will still look great in years to come. This season we've used natural materials and exclusive prints to create simply stylish dresses you'll want to wear again and again.
For top-to-toe chic why not try our beautiful Maxi Jersey Dress, available in brilliant blue and vibrant Paprika, ideal for fun days in the sun. Our Cotton-linen Dress and our Jersey Print Dress are both perfect for a casual daytime look, with a splash of sophistication thrown in.
And for the perfect combination of comfort and style our Pure Cotton Dress is just the thing – it's a fresh summertime look, a wardrobe essential that looks as much at home in the piazza as it does at the local park.
There is something incredibly feminine about a dress – slip one on and you instantly feel just a little more pretty. What is interesting about the iconic dresses is how they seem to be perfect reflections of the wearer – be it chic or shocking. And perhaps that is the most important thing to remember about wearing a dress – it should be about you. Whatever length or style you choose, to make it work, don't just follow the fashion but stay true to yourself.