Patra proud to sponsor Kilimanjaro climb in aid of Great Ormond Street
We are very pleased to announce our most recent sponsorship project; helping a great team raise money for a very worthy cause. On the 4th October a group of 15 from the Top Right Group will climb Mount Kilimanjaro, all in aid of Great Ormond Street Hospital.
And what better way for us to help than by providing the essentials – Patra have donated the best silk thermals for all members of the team. Used by professional mountaineers and intrepid hobbyists, our range of silk base layers protect from harsh climates and allow your skin to breathe.
The Team
A brave group of business professionals with limited climbing experience will shortly be attempting a trek to the summit of Kilimanjaro. Speaking of the trip, one of its team members Joanne Jones said, "It's going to be hard work but it'll be an amazing experience. I can't wait!". The group aim to raise a staggering £50,000 for the Children's Hospital Great Ormond Street and they are already over half way there.
The Mountain
Kilimanjaro, in Tanzania, is the highest freestanding mountain in the world, reaching an impressive 19,341 feet above sea level. It is actually made of three volcanic cones, and although they are dormant, eerie gas can often be seen rising from one of the craters.
Although popular with trekkers it does present a number of dangers. The high elevation and low temperature can make it an extremely challenging expedition. Altitude sickness, shortness of breath, extreme headaches and hypothermia are some of the possible effects of climbing at such heights.
Smooth protection
We've supplied the whole team with our silk base layers. These included our Long-sleeved Silk Thermal Vests and Long Johns for men and women.  These are worn by travelers to stay cool in the tropics, and by arctic explorers to stay warm. Skiers and climbers love them, as they are ideal if you're being active in cooler temperatures.  They work so well because although silk adds a warm protective layer, it is also breathable and wickable. And the fact that they are so lightweight makes them comfortable and flexible when you're on the move.
Added accessories
When you're faced with freezing temperatures it is often the body's extremities that get hit first. Your neck, face and fingers need to be covered when you are climbing. The team also received Silk Glove Liners, Silk Collars and Silk Balaclavas to protect them from the elements.
On the subject of the Patra base layers team member Chris Houckham-West said "We received an amazing donation from Patra today in the form of silk thermals for the whole team". He went on to say that "The climb will undoubtedly be a test of mental and physical strength, however we are now guaranteed to stay warm on the final ascent! I tried them all on including the long johns, top, gloves and balaclava and was impressed with the quality and fit…in the full kit I also bore a striking resemblance to a Power Ranger!"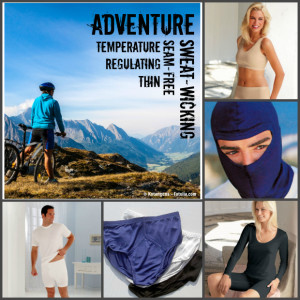 Our range of thermals for sporting men and women combine some of the most innovative fabric technology with pure silk. The result is a hard-working second skin; heat regulating, breathable and versatile.
We are pleased to be part of this exciting, challenging and extremely worthwhile trip, and can't wait to hear how they all got on upon their return.
If you would like to find out more about the Top Right Team and help them raise money for Great Ormond Street Hospital you can do so here.
From all of us at Patra we'd like to wish the team the best of luck and a safe climb.