How to lift your look and add the perfect finishing touches to any outfit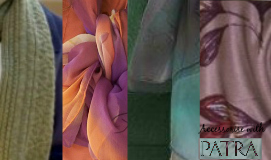 Accessories – they say that the devil is in the details, and it couldn't be more true when it comes to accessorising. The right scarf, belt or piece of jewellery can transform an outfit in an instant. And the great thing about accessories is that they are the perfect way of expressing yourself without having to be too bold; add a touch of fun or colour depending on your mood. Adding accessories in new patterns or colours is also a simple way to update your wardrobe and move it into the next season.
The icing on the cake
Scarves are great and an absolute must-have all year round. They can change the look of an outfit by adding colour.  Plain staples can be instantly brightened and brought back to life with the right scarf. We love our Pure Silk Chiffon Scarf; printed in soft abstract blends of colour it is the last word in elegance.
Not only do silk and cotton scarves provide a touch of warmth in the evenings, they are also ideal if you're planning on getting a bit of winter sun. You can use them to protect your shoulders from sunburn or even them to make it into a mini-sarong to wear on the beach. Lightweight and multipurpose, you'll be amazed how often you use them.
And as the weather turns a little cooler our Silk Print Collar is the perfect silk accessory. This light silk touch in our signature print not only adds warmth but also refreshes old jackets and tops, easily linking them to the latest season's prints and colours.
Belt up
Adding a belt to your trousers or jeans adds instant style. Even better than that, by adding a belt over a tunic, top or dress you can create the illusion of a smaller waist and a more hourglass figure – a bonus for all body shapes.
Our elastic braided belt is easy to wear and available in natural tones that work with a variety of colour combinations. What's more, because it's narrow it elongates your midriff, producing a lovely silhouette.
Snuggle down
Many of us own a dark coloured coat – it goes with everything and isn't too ostentatious. But if you're bored of dull hues then hats, scarfs and gloves in colourful tones will brighten your day as well as your outfit. Adding soft knits will make you feel snug and cosy, and our elegant styles will keep you warm without looking bulky.
In pure Scottish lambswool, our gloves, hat and scarf set will envelop you in softness. Available in turquoise, sage and blueberry, these seasonal shades will revamp any tired layers. What's more, they make fantastic gifts.
Everyday elegance
It doesn't have to be a special occasion to accessorise with style. If you're at home or relaxing, the right accessory can bring much needed comfort, warmth and make you feel a little bit pampered – something we all deserve. Try wearing our silk glove liners inside your gardening gloves to protect hands, over freshly moisturised hands at night or just to ward off the Autumn chills around your home.
Easy and inexpensive – accessories can really make a difference. Add another dimension to simple key pieces by accessorising with different fabrics and deeper hues. Use them to express your personal style and personality, and make each outfit unique to you.