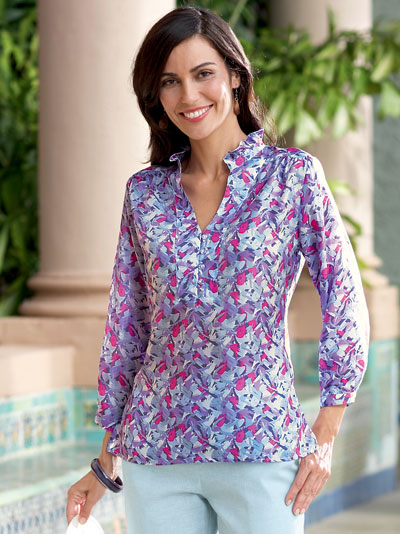 Patra Selections has launched its new Summer 2012 collection, made up of new, flattering silk styles and perennial favourites.
Summer 2012 sees the launch of Patra Selections' new collection with an abundance of new styles and past favourites. Mrs U. Patra, founder of Patra Selections, says, "We are really excited that the new styles we have introduced are proving so popular with all our customers. It's so satisfying when I see a design through from start to finish and it's well received!"
New styles, which are proving very popular with customers are the colourful and flattering Silk ¾ Length Sleeve Top and the lovely feather-light Silk-Cotton Blouse. For daytime elegance, the easy-fitting Paisley Print Silk Dress is a great choice and makes for a perfect 'wedding party' outfit, while the Short Sleeve Silk Blouse is a simple, yet stylish addition to any wardrobe. Casual looks are catered for by the classic Short Sleeved Polo, made in breathable silk and cotton.
For Summer, the in-demand and on trend piece are our Pure Silk Trousers, which come in an exclusive Patra print and are made of soft woven silk. An easy piece to pull on, with side pockets for practicality, this is fast becoming a top favourite.
Hugely popular as well is the beautifully tailored Cotton-Linen Dress, a flattering and elegant piece that works well for all sorts of occasions. The Silk-Cotton Pintuck Blouse in its unique and colourful print is a gorgeous piece that will liven up any outfit.
To view the new Summer 2012 collection, please visit www.patra.com.
About Patra
Founded in 1964, Patra is a family-run independent mail order firm which specialises in providing superb quality pieces made of pure natural fibres in exclusive styles at amazingly affordable prices. As experts in silk clothing, fabrics are sourced and hand selected with great care, ensuring that only items of superior quality are offered.
At www.patra.com, you can find a wide range of exclusive silk clothing, blouses and other silk products, designed in-house with the utmost care and attention to detail, and always with style, comfort and manageability in mind.