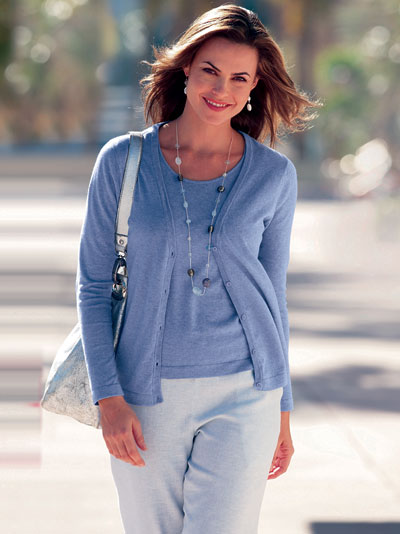 Patra Selections has recently launched their new Spring 2011 catalogue, a mix of popular silk favourites and transitional pieces in new shapes and fabrics.
For Spring 2011, Patra have updated their collection and introduced more modern and fresh styles. Of the new collection, Rita Patra, Managing Director of the online and mail order silk company says, "We are very excited about our new spring collection, which has some lovely new transitional pieces. We think things like the long cotton cardigan will prove perfect for the winter through to spring. We also have new shapes and fabrics – the crinkled cheesecloth cotton top, and the brushed cotton striped shirt are both new fabric choices – warmer but still not bulky – great for this time of year."
The new Brushed Cotton Stripe Shirt, available in blue, is already proving to be very popular with customers, due to its casual and comfortable fit. Great for layering, it is perfect for all types of spring weather, and can be easily worn over and underneath other items.
Another new item, the Woodland Print Top, made of crinkled cheesecloth cotton and coming with three quarter length sleeves and pockets, is both pretty yet practical. Easily dressed up with accessories, it is ideal for casual days out but also great for smarter events. These new items are typical examples of what Patra's new collection offers; practical items in lovely fabrics, suitable for a number of occasions.
However, fans of Patra's ever-popular silk jersey baselayers need not worry, as the silk retailer intends to keep selling them right through the spring. After all, Managing Director Rita Patra confirms that, "…nothing matches the warmth without bulk that these layers can give. "
With changeable weather still forecast for February, keeping silk baselayers in stock sounds like a wise idea.
To view the new Spring 2011 collection, please visit www.patra.com.
About Patra
Founded in 1964, Patra is a family-run independent mail order firm which specialises in providing superb quality pieces made of pure natural fibres in exclusive styles at amazingly affordable prices. As experts in silk clothing, fabrics are sourced and hand selected with great care, ensuring that only items of superior quality are offered.
At www.patra.com, you can find a wide range of exclusive silk clothing, blouses and other silk products, designed in-house with the utmost care and attention to detail, and always with style, comfort and manageability in mind.