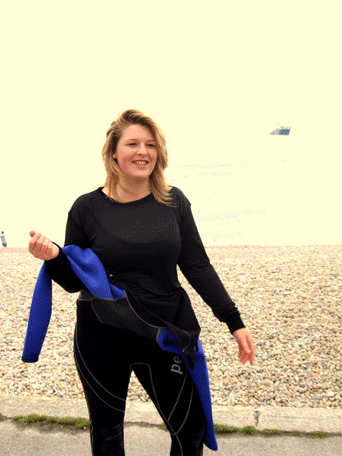 On July 24th 2010, the North Dorset Sub Aqua Club, a member of the British Sub Aqua Club (BSAC), raised over £300 at their club fundraiser. Patra Selections aided in raising this amount, by donating sets of its popular silk thermal underwear as prizes.
Every year, Patra receives many orders from skiers and hikers who use Patra silk vests and long johns as base layers. They choose silk thermals as they are non-bulky and easy to slip on, but also because they can wick away moisture and regulate body temperature. The additional comfort and softness of the thermals make them popular with customers who have skin conditions such as eczema.
Patra silk thermals are not only useful for skiers and hikers, but also for scuba divers. Different levels of thermal insulation are required for heavy neoprene dry suits at different periods of the year. David Gilby, Events Organiser of the North Dorset Sub Aqua Club, who has been a scuba diver for over a decade, states that, "In the summer, a silk thermal vest and long johns, used as a first layer, can be all that's needed, although in colder water, a thicker under suit is also required." The smoothness of silk makes slipping on a damp, clingy neoprene suit much easier and silk has the benefit of being comfortable as well. "Importantly, it doesn't add any buoyancy penalties," stresses David Gilby. "A thick quilted under suit may be the equivalent of up to four pounds of extra lead weight, necessary to counteract its buoyancy."
Rita Patra, Managing Director of Patra Selections says, "We are delighted that the qualities that are specific to silk proved so useful for the divers. We have supplied to the Thames Police divers on occasion as well, which only goes to show how versatile our silk base layers are."
Patra Selections has acted as a sponsor for many events, expeditions and individuals. These include actors from The Bill, who raised money for The Bobby Moore Cancer Fund on an expedition to Mount Kilimanjaro (2002), as well as the Royal Navy & Royal Marines Everest North Ridge Expedition (2003).
For more information on sponsorship, please contact ordersilk@patra.com.
Patra's collection of silk thermal underwear can be viewed online at www.patra.com.
See our Facebook page for photos of members of the NDSAC wearing Patra silk thermals!