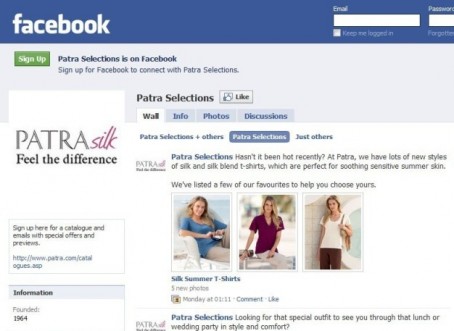 With social media being touted as vital for facilitating two-way conversations between brands and their customers, Patra, the silk mail-order retailer, has recently launched a new blog and Facebook page to better connect with its customer base.
"As so many of our customers shop online, we thought Facebook and the blog would be a great way of bonding with them," says Rita Patra, Managing Director of the silk mail-order retailer. "Although we already send out emails, we felt they didn't allow us to get to know our customers in the way that Facebook does. The blog will also be a great way of letting us showcase the benefits that Patra products and natural fabrics bring."
These benefits range from the extra warmth that silk provides, which has been appreciated by customers with Raynaud's Disease, to the soothing quality of silk, which is particularly beneficial to those who suffer from skin conditions such as eczema. The company's best-selling products, Patra thermals, are also widely used in a number of sports, from skiing to horse-riding and even scuba diving, as silk is both fine and able to wick away moisture from the skin.
Patra's blog and its Facebook page are also to provide information on sponsorship opportunities. In the past, Patra has sponsored and donated sets of its popular silk thermals to expeditions to Mount Everest, the Amazon and Mount Kilimanjaro. More recently, Patra has donated thermals to a fundraiser of a member organisation of the British Sub Aqua Club and the company is keen to be involved in other similar opportunities.
For further information on sponsorship by Patra, please contact ordersilk@patra.com.
Join the Patra Facebook page here.