Your guide to the best AW15 runway trends
Now that the major fashion capitals have all finished their Autumn Winter shows we thought it would be the perfect time to put together a collection of the styles that shone through and give you an idea of what you can expect to see in the shops next season.
Fashion rewind
Design houses around the globe wanted to remind us how time flies by taking inspiration from the 80s and 90s – rewinding 30 years and showcasing looks for Autumn and Winter. The runways were full of looks that could have come straight from an episode of Dynasty – padded shoulders, ruffles and proms skirts. Louis Vuitton and Rag and Bone as well as others also explored retro sportswear style, with baggy tees and sheer slips as dresses. Seductive yet fun, these recycled looks will have you digging in the attic for your favourite 80s items.
Tailor-made
Stunning tailoring and exquisitely cut formalwear were also a popular trends, seen on the runways of Michael Kors, Ralph Loren and Donna Karan during New York Fashion week. The collections all embraced a look of smart seduction, impeccably cut pieces including pleated skirts, culottes and long tailored coats.
Colour trends
Metallics – Platinum, Pewter, Rust and Metallic blue are set to be big colours for next season, with rich golden hues warming up more icy blues. Golden dresses and accessories including buckles, heels and jewellery shone out. Light washed and dull frozen blue were colours often highlighted, whilst Louis Vuitton showed stunning silver tunics and glittering golden top-to-toe looks.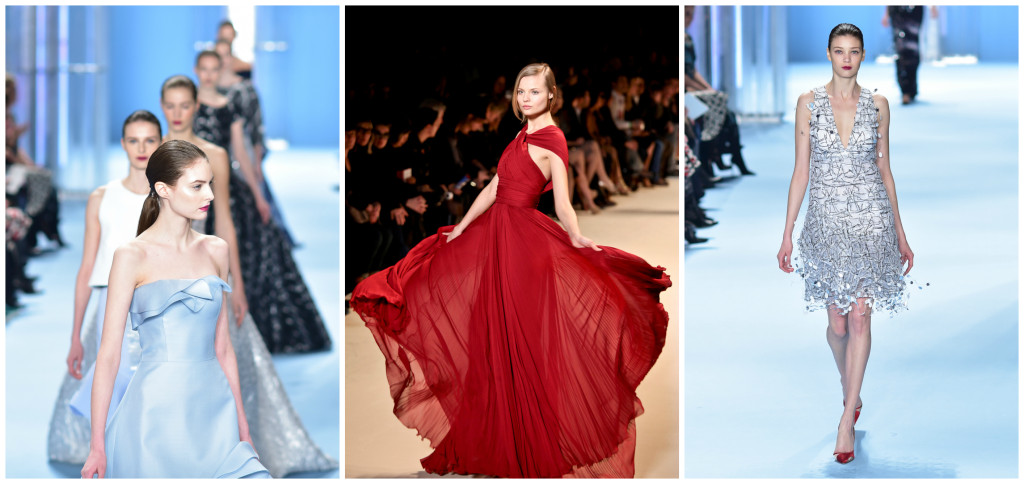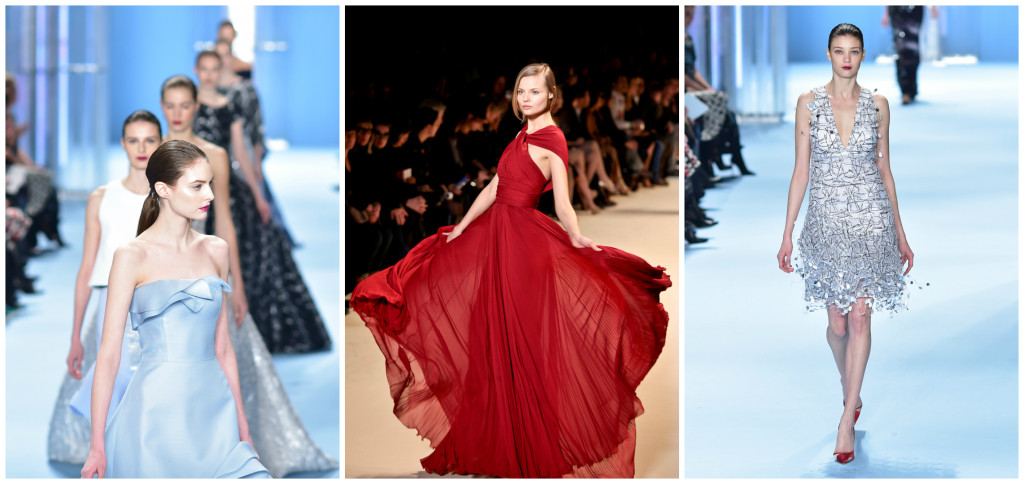 Red – especially the bold and bright variety, such as scarlet and crimson was also a stand out AW15 colour trend with Dior and Fendi brightening up their runways with vibrant reds and making their looks just rosy.
A little embellishment
Lace, feather, fur (faux and real), appliqué and sequins were seen on many AW15 catwalks. Set to be a big trend next season, Proenza Schouler and Louis Vuitton embraced this glitz and glam style, with Lurex and golden glitter sparkling along the runway. Alexander McQueen used black lace and frills to create a Victorian Gothic mood to their collection.
Time to accessorise
Handbags, chokers, belts and even long gloves were used by many, such as Marc Jacob and Chanel, to produce a very ladylike look. Karl Lagerfeld also brought an old fashioned feminine feel to his show with tweed and clutch handbags: you won't have to worry about keeping warm this winter.
Stella McCartney used "Fur-Free Fur" in snuggly coats and scarves. Donna Karan and Michael Kors displayed chunky knitted wraps and fur scarves. Marc Jacob featured berets on many models as well as silk neck scarves in block colours knotted at the front.
Lovely layers
Finally a trend that is easy to copy and actually quite practical. Layers that can combine summer and winter looks to keep you pretty and warm were popular styles for AW15. Hermes had polo necks layered under shirts and Phillip Lim's models wore double-breasted jackets under parkas.
Prints
Another big trend for AW15 is prints. Marc Jacob's prints were heavily influenced by the fabric designer William Morris, using floral and nature-inspired patterns. Whilst the likes of Pucci and Dior went for more vivid graphic patterns that were bold and often worn top-to-toe. Designers such as Burberry and Katrantzou loved their prints so much that they often had put models in more than one – for a clashed look which saw florals teamed with geometrics.
Making fashion wearable
Although many of the models on the AW15 runways wore looks that most of us would find impossible to copy, when you take the individual trends there are many which aren't too hard to pull off. Although head-to-toe glitter might not work for you, adding a sequin top could update an outfit easily. Adopting one of next season's colour trends to wardrobe staple can bring your look up-to-date. What is important to take away from the fashions of the catwalk is that it is an inspirational vision of what we'll wear next season. At Patra we've taken these catwalk trends and added a touch of practicability and every day comfort for our new AW15 Collection – we hope you'll enjoy it.