Racing along with a little help from strong silk base layers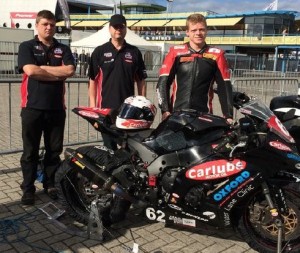 Motorbike racer, international competitor and Patra customer Sam West has had a great season.  It's been a fantastic year for him – taking part in races at the Isle of Man, the Dutch Superbike championship and the BSB Superstock 1000 series.  That's not to say that it has been without its challenges, including more than a few injuries. But the team have carried on, with a little help from some robust Patra base layers, to make this season one to remember.
Facing adversity
This year Sam made his debut appearance in the British Supersport series at the challenging Knockhill circuit in Fife Scotland. After starting well, catastrophe struck in a large crash during a practise session. After 8 gruelling days in hospital with a broken pelvis, Sam spent many months of intensive physiotherapy to get fit again. Everything had to be put on the back burner to focus on getting well enough to compete again. And, against all odds, using sheer determination and the motivation of the forthcoming Manx Grand Prix, Sam managed to get himself back to strength and ready to compete again.
Just seven weeks after the accident, really not in fighting form, Sam rode the Isle of Man but struggled with muscle pain. Sam had regular physio during the two weeks there, and by the time the race came around he was in a better state and rode well fighting for a podium until fuel issues left him stranded a short distance from finishing line. The team, although devastated, gained valuable track and event experience putting them in a good position for the 2015 IoM TT.
Breaking new ground
The Dutch Superbike championship was a one-off race at Assen, new for Sam and the team but a great experience.  A fast and furious race, Sam didn't let previous injuries deter him and pushed hard in a battle that included serious collisions, but walked away without a bruise.
Patra base layers are like a second skin
Although you may not think of thermals as typical biker gear they make far more sense than you might think. Lightweight, strong, flexible and breathable make silk an idea base layer. It's like an invisible layer of protection that silk can provide more than most synthetics.
Sam says, "It's impossible to keep cool but the silk layer helps tremendously. The silk takes away the sweat and helps me to move in my leathers as I move around the bike".  These silk thermals work hard, helping regulate temperature and in the unfortunate event of a crash, minimising friction burns – not something that can be said of the man-made alternatives.
Brands Hatch
The season's final BSB round at Brands Hatch got off to a great start but was once again crashed into by another rider – amazingly he managed to stay upright and chased hard to get back to position. Unfortunately, he crashed, luckily escaping serious injury but missed the position he was so hoping for.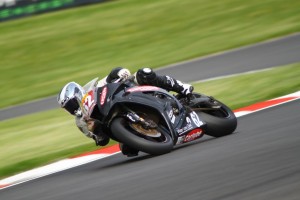 From successes to injuries it's been a tough season for the team but they have come out with some strong results and are in a great position for next year's races.
Sam paid special thanks to Patra for providing him with under-leather wear, the silk clothing that has saved him from any potential friction burns that he might have had from wearing other under-armour style clothing.
Our silk base layers are firm favourites with sports-men and -women for one solid reason – they work. Strong, hard-working yet gentle and lightweight, our pure silk thermals make a lot of sense.