How to prepare your holiday luggage perfectly and pack with ease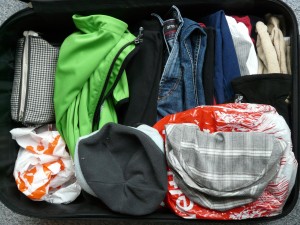 Packing, from a weekend away to a long summer cruise; it is one of those inevitable chores that can cause stress before your journey has even begun. Unpredictable weather, baggage allowances and getting your loved ones organised can all make packing a really tricky business.
But fear not, the combination of versatile Patra clothing and these top packing tips should relieve much of the pre-holiday woes, helping you to get packed up and ready to go in no time.
1.Make a list
Before you start, get organised with a pen and paper. Make a note of the different activities you've got planned for your holiday and check the weather forecast for the region. Try to ensure you don't double (or triple) up on very similar items – how many swimsuits do you really need? Once you've written your list, try ranking items in order of importance, then if you are pushed for room remove things from the end of your list – you probably won't need them.
2.Comfort and style
Remember to pick out something to wear for the journey, and this doesn't have to mean sacrificing style in order to be comfortable. These silk trousers look incredible but they also have a soft elasticated waist and two side pockets. What's more, they look just as good at the airport as they do on the beach.
3. Create your own capsule wardrobe
Thinking of your suitcase as a capsule wardrobe is a great way to pack-smart. Picking out key pieces that can be mixed and matched to create different looks can mean that six carefully selected pieces could make up to 20 different outfits.
4. Multi – purpose pieces
Think about items that can be dress-up or down, that can easily take you from day to evening. This lovely Trellis Print Dress, in soft jersey, is perfect for a day excursion, and by adding a pair of heels and a statement necklace you'll be ready for an evening out in a snap.
This Tunic-kaftan is also incredibly versatile. Ideal for cruise wear, throw it on poolside, wear it with jeans, or as a lovely summer evening dress – it's really three items in one!
5. Try it on before you put it in
Never pack something that you haven't tried on before. And even if it did look good on a few years back it's best to make sure it still suits you. There is nothing worse than realising that your evening dress no longer fits minutes before you go out. And only pack things that you feel comfortable in too – life is too short to feel less than your best.
6. Layer up
Bulky items, such as thick knitwear can take up a lot of suitcase room, and if it is only something you may wear once or twice they can be a real waste of space. Layers can actually provide great warmth, and make you look less bulky too. A silk shirt with a cashmere cardi will keep you warm but can also be worn separately too.
7. Cool Classics
Items like a white silk shirt, can add instant sophistication to any outfit. It goes perfectly with jeans, a skirt, over a cami or under a cardigan. When you invest in buying key staples like this, you'll find yourself returning to them time and time again, as they look so stylish.
8. Great foundations
A silk vest, like this one, is great on holiday, it can be worn under a shirt, with a jacket and statement necklace for the evening, or even to sleep in on a warm night.
Patra's silk socks are fantastic for traveling, they are blended to make a supportive and smooth sock for all day comfort. They can actually prevent excess fluid build up in the legs and aid circulation, incredibly beneficial when flying.
9. Travel size
Toiletries can take up a lot of suitcase room, so think about buying products when you get there or packing smaller trial size bottles. If you are traveling with friends or family there may well be items, such as sunscreen and toothpaste, you can share to avoid doubling up.
10. Silk makes sense
Silk is an ideal fabric for holiday clothes. It is great in different temperatures. It is so clever, keeping you warm on cooler days, yet breathable when the temperature rises. It also wicks moisture away from the body so it's ideal for hotter climates.
This gorgeous top is a great of example – packs to nothing, goes with everything and looks sensational. You may be able to grab a bargain in our current Summer Sale.
Hoildays should a highlight of your year, so make sure you don't get those pre-travel worries this time round. Let us make it stress-free and pack in style.
Enjoy your holiday!