Make every day a holiday with our new Spring-Summer collection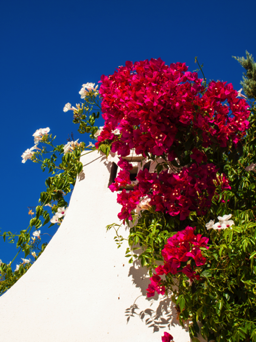 Inspiration for this season's new range has come from the warm colours and feel of the Mediterranean islands. We're celebrating the region's vibrant blue skies and green seas as well as its floral palette with beautiful Bougainvillea pinks, dusty lavenders and pure whites. We want to lift spirits and celebrate this summer in style.
We've also been focusing our attention to detail; subtle fine pintucking, lace inserts and intricate embroidery. It's these special touches and the use of fabulous all-natural fabrics that we believe give our garments the edge over those you'll find in the high street.
Combining comfort and style
Our aim is to keep you supremely comfortable and effortlessly stylish. Our in-house team of designers have created key pieces that are wearable, elegant and showcase the natural beauty of our pure fabrics.
This Pure Silk Short Sleeve Shirt is a wardrobe staple and perfect for travelling. Made from Noil silk it is both flattering and feminine. These soft tops look great teamed with either a skirt or trousers.
For a relaxed holiday look our Pure Cotton Pull-on Trousers with soft elastic are just the thing. And for instant summer smart dressing you can't go wrong with an A-line skirt –  it's such a flattering cut. This Linen-Cotton Skirt is yarn dyed and hangs beautifully.
Floral fusions
Our designers have chosen florals and simple geometric prints that are pretty and easy to wear. This Pure Silk Jersey in stunning jade is a prime example of an exclusive Patra print. The design is unique and the jersey knit stretches without clinging.
We are also proud of our fresh cotton print range, great for summer with beautifully textured cottons that give an added dimension to your outfits. This Reversible Cotton Jacket is plain on one side and has an exclusive Patra print on the reverse – like two jackets in one. Absolutely ideal for holidays, as it can be paired with both plain or patterned pieces.
And our mission for summer comfort continues with this Viscose & Spandex Top, it is easy to wear and made extra special with front pleat detail and gorgeous print. Mix and match these exclusive prints with our cardigans, jackets and skirts in base colours and you'll easily expand your Spring-Summer wardrobe.
Simple sophistication
We believe that you should be able to build your outfits easily with beautiful timeless pieces that will last. At Patra we aim to tick all the boxes – style, comfort and quality. These looks are so chic, yet couldn't be simpler or feel more relaxed – slipping on a tee has never looked so good. Whether eating out, splashing about or just staying in you'll have that holiday glow all season long.
Welcome to our new Spring-Summer 2014 collection, available online from 24th February! We hope you enjoy our new range as much as we loved creating it.