Following in the fashion footsteps of D&G and House of Holland, we've brought out our own print pieces, with wide-cut, loose flowing silk trousers in on-trend floral and tribal patterns.
Because we design our own collection rather than buying wholesale pieces like many other retailers, we get to choose our fabrics, and our styles, with care and thought.
In business since 1964, we know what you like, and what you don't! And you tell us you want a comfortable, flattering take on the latest trends that suit your figure and your lifestyle.
Holiday versatility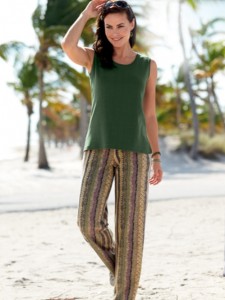 Great for travel or simply relaxing, silk trousers don't crease with long periods of sitting, and in the summer, the cool, flowing fabric and wide-leg cut is comfortable, but still smart.
Team with a loose top, cinched in with a wide belt if you're blessed with a small waist, or embrace the season's draped look and wear a long pendant necklace to draw the eye down and create a little definition in the bust area!
Worn here:
Knitted Noil Silk Pull-On Trousers (code NALP) in Pampas £55
Noil Silk Sleeveless Top (Code NT) in Fir Green £25.95
Evening glamour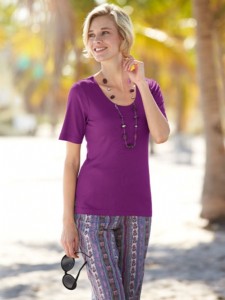 Think about the best nights out you've had – aren't they always better when you feel comfortable with your outfit? With wide-leg silk or cotton trousers in a generous, flattering cut and a fashionable print we guarantee you'll feel glamorously at-ease.
You can afford to wear a more figure-hugging top for evening, or go to town with rich, darker colours, and dress up while creating shape with a smart tailored jacket. A few chunky bracelets, a belt and statement necklace balance a bold print and add elegance.
Worn here:
Pure Cotton Pull-on Trousers (code NLCT) in Pink £34.95
Silk-Cotton Top (code RSNT) in Violet £31.95
Weekend chic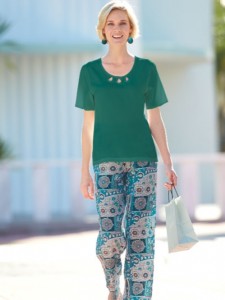 Whether you're flying off to Paris for the weekend or meeting friends for coffee, you can't beat these patterned trousers for the 'this old thing? I just threw it on' look. Weekends are about comfort and relaxing, so opt for pumps or flat sandals. Don't worry about short legs – a vertical print like this one coupled with the famously flattering wide legs mean you can finally kick back and relax in comfortable shoes.
If height is an issue, remember to draw the eye downwards, so a statement necklace or hair accessory causes people to start at your face, before looking downwards at your bold trousers.
Worn here:
Pure Silk Pull-On Trousers (Code: TPR) in Seaside. £55
Noil Silk Sleeveless Top (Code NT) in Green £25.95
You can rely on Patra to bring you wearable fashion in classic styles!